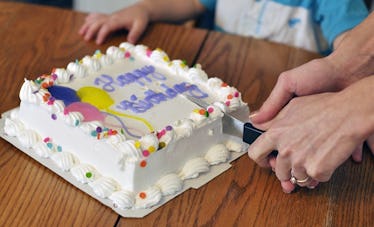 You Can Get Free Carvel In September, So Prepare Yourself For An Ice Cream-Filled Fall
I don't know about you, but aside from an incredible homemade Pikachu cake at my 5th birthday party (thanks mom!), some of my favorite birthday cakes have come from the one and only Carvel. Whether it was a classic Fudgie the Whale cake or a pink Barbie cake, my late-June birthdays have always felt so right with a cake made of ice cream, topped with little chocolate crunchies. If you happen to be celebrating your birthday in September, you're actually eligible to receive a completely free Carvel cake. Since everyone deserves the dopest possible birthday celebration, here's how to win a $50 Carvel gift card in September. Get excited to cool off the right way on your September birthday.
According to a Carvel press release, nine out of the 10 most common birthdays in America occur between Sept. 9 and Sept. 20, based on 20 years of data attributed Matt Stiles, a data journalist. I know, it's incredibly hard to believe, but September is by far the most common birth month in the U.S. Unsurprisingly, Carvel is celebrating this in the sweetest way possible. The beloved ice cream chain is giving away $50 Carvel gift cards to 50 September-birthday babies from the "Fudgie Fanatics" email club at random. The idea is that the winners will spend it on a beautiful, delicious ice cream cake.
I don't know about you, but this is my dream come true. Unfortunately, I wasn't blessed with a highly-regarded September birthday, but if you were born in the first fall month of the year, make sure to get in on this wildly tantalizing offer as soon as you can (in my honor, of course).
In the press release, Scott Colwell, president of Carvel, says that the chain's ice cream cakes are an annual tradition for several dedicated fans, and as you'd imagine, Carvel's birthday cakes are their most popular cakes. For this reason, the company figured that it makes sense to gift those with the most common birthday month with the chance to win a free cake — and they ideally want Carvel to become part of everyone's birthday traditions.
In the press release, Colwell said:
Our beloved brand has been a part of Americans' birthday celebrations for over 84 years, so who else would be more trusted to deliver the most perfect celebratory cake. With so many of our fans having September birthdays, we wanted to show our appreciation by surprising them with an ice cream treat on us.
Carvel also recently teamed up with Cinnabon to create what might be the only other treat you want on your birthday: a Cinnabon Churro ice cream sandwich. Yep, you can enjoy Carvel ice cream sandwiched between two Cinnabon Churro Swirls at select Cinnabon locations. TBH, I'm not even mad anymore that my birthday isn't in September, because now that I know this delightful treat exists.
Alas, September babies can take advantage of the chance to score free ice cream thanks to a $50 gift card. Very few birthday parties feel right without an ice cream cake, and those born in America's most popular birth month are being treated to a free one. If you were born in September, make sure to sign up for the Fudgie Fanatics fan club, and my dream could officially become your reality. I'm beyond jealous, so if you win, an invite to your party would be greatly appreciated. But I honestly might just go out and buy myself a cake anyway. As a wise person once told me, "once you realize that you don't need a special occasion to buy yourself a cake, the second part of your life begins."