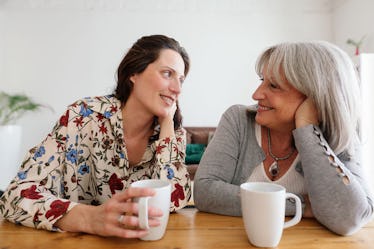 Here's How To Tell Your Family You're Dating Someone, Even If You're Nervous
It's not always easy to involve your family in your love life. As open-minded as your parents might be, they may have some expectations or preconceived notions about the person they picture you dating, and chances are that your significant other isn't going to tick all the boxes. My Irish-Catholic family never imagined me marrying an Italian Jew, and yet here we are. But I'm lucky — my family has been accepting of my partner since the moment they met him, and not everyone has that luxury. If you're struggling with how to tell your family about your relationship, you're not alone, because it can be seriously scary.
What's the best way to tackle the conversation, on the phone or face-to-face? What do you do if your family isn't accepting of your partner's religion or race or sexual orientation or gender identity? There are plenty of factors to consider before telling your parents about a new relationship, and there are even more reasons why you may be apprehensive about doing it. Elite Daily spoke to Melody Li, licensed marriage and family therapist and multicultural couples specialist, as well as Anne Beverly, counselor in residence at Bluebird Counseling Center, and they shared some tips on navigating this tricky topic.