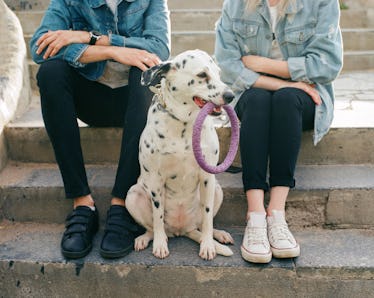 9 Casual Pickup Lines To Try At The Dog Park That Are Too Woofing Good
You've probably heard a million times that you can meet someone at a bar or on a dating app or even at a friend's dinner party. But if that still hasn't led to sparks, you might be looking for fresher ideas. A creative place to meet a potential crush is — drumroll please — a dog park. A dog park is a great place to meet someone because you both have something very personal in common: your four-legged best friend. Here's how to talk to someone at a dog park, because it's admittedly difficult to flirt with someone when you're outside in broad daylight, keeping an eye on your dog, and maybe holding a bag of poop.
The best thing to do is to greet the person casually before trying anything flirty. This is to make sure you don't make someone uncomfortable and avoidant. Time is on your side because chances are they're just watching their dog run around without anyone else to talk to. Just try introducing yourself or complimenting their dog. After you've been talking for a little while, any of the following pickup lines could work super well!