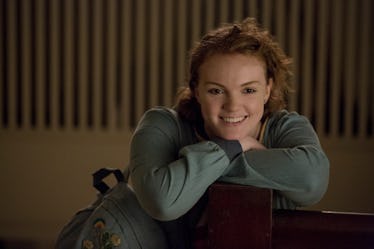 The 'Sierra Burgess Is A Loser' Soundtrack Is The Ultimate Feel Good Playlist
Aaron Epstein / Netflix
After the summery, sweet delight of To All the Boys I've Loved Before, rom-com fans metaphorically went back to school when Sierra Burgess Is a Loser debuted on Netflix on Sept. 7. Initially presented as a catfishing romance, Sierra Burgess Is a Loser takes on a theme of female friendship and support rather than just teenage love. Accompanying Shannon Purser and Kristine Froseth's work to help each other in a time of need is a breezy, feel-good soundtrack that you'll want to listen to 24/7. Now that you've binged the movie on Netflix, here's how to stream the Sierra Burgess Is a Loser soundtrack ASAP. This post contains spoilers for Sierra Burgess Is a Loser.
Starring Stranger Things' Purser in the title role, Sierra Burgess Is a Loser introduces the smart, unpopular teen girl who winds up texting a jock (To All the Boys I've Loved Before's Noah Centineo) after a mishap with the incorrect cell phone number. Centineo's Jamey believes he's talking to a cheerleader, which inspires Sierra to team up with popular girl Veronica (Froseth) for help in winning over Jamey. Based on the 1897 play Cyrano de Bergerac, the film follows band geek Sierra and cheerleader Veronica as they become friends, but the catchy, upbeat soundtrack adds another layer to the entertaining story.
Available to stream on Spotify, the movie's soundtrack contains songs by Betty Who, Leland, Sabrina Carpenter, Allie X, and more. Bram Inscore and Leland scored the soundtrack, while Troye Sivan co-wrote three of its tracks, including Purser's own song. A lifelong singer, Purser performed the song "Sunflower," which Sierra writes for Jamey in the film. Luckily, now that it joins other artists' songs on the soundtrack, you can play the sweet and sentimental "Sunflower" on a loop whenever you feel like it.
In addition to being performed during the movie, "Sunflower" is also a much slower and unproduced song compared to the techno, modern rhythms of the majority of the soundtrack. The rest of the songs are great for getting into a happy mood, but "Sunflower" and its lyrics are the type of things to make you stop and think.
Purser has previously sung on TV as a series regular on NBC's Rise, and while she releases covers of songs on social media, performing in such a vulnerable scene in Sierra Burgess Is a Loser was a new challenge for her. She told Bustle:
I love to sing; it's a big part of my life. But [Sierra Burgess Is a Loser] was the first time I got to sing on camera. It was definitely a little scary at first, but just a really great experience.
Purser also revealed to Bustle that she has dabbled in the recording studio lately, so while there's uncertainty about whether there will be a Sierra Burgess sequel, it looks like we can definitely look forward to hearing more of Purser's voice in the future. And if there is a sequel, Sierra clearly has to be in a band or an acapella group in college, right? I could definitely use Pitch Perfect-esque vibes from any follow-up film, but I'll stream the Sierra Burgess soundtrack until then.
Sierra Burgess Is a Loser is currently streaming on Netflix.