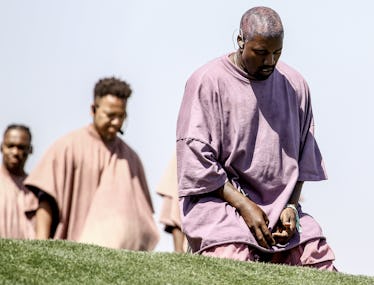 Here's How To Stream Kanye West's 'Jesus Is King'
Rich Fury/Getty Images Entertainment/Getty Images
It's Yeezy season y'all. The highly-elusive Jesus Is King album from Kanye West is finally here and while fans weren't sure this day would ever come, it calls for a celebration! Naturally, I'm throwing a listening party for the album as I type, and I highly recommend you do the same. This record is chock-full of certified bops, and if you're wondering how to steam Kanye West's Jesus Is King record for yourself, I've got you covered. So get your headphones out, and buckle up.
Believe me when I say this album is nothing like Ye's past releases. While the rapper told fans to expect a gospel-themed record, he still managed to surprise fans with some of these tracks. If you're still crying over the no-show of his Yandhi record, fret not friends. West definitely made up for lost time with this one. Plus, without a little extra anticipation, it wouldn't be the true Kanye West experience anyway... right?
So without further ado, let's get to listening shall we? There's plenty of options when it comes to listening to Yeezy's new record and I've got all the deets for you. After the long wait for Jesus Is King, an at-home listening party is so well-deserved.