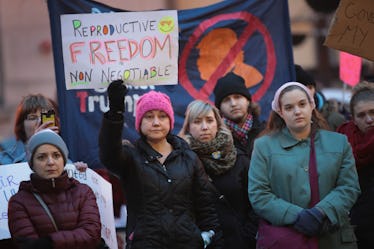 Here's How To Protest & Protect Reproductive Rights At SCOTUS, So Get Ready
Scott Olson/Getty Images News/Getty Images
As President Donald Trump made his way through the run up to the 2016 elections, he made it very clear that he had his sights on overturning Roe v. Wade — a 1973 court ruling that recognized a women's right to have an abortion. Up until now, his hands hands were a bit tied, but now that Justice Anthony Kennedy has retired from the Supreme Court, the battle over abortion rights is inevitable, since Trump is sure to appoint a anti-abortion justice. No one has the ability to stop Kennedy from leaving, but here's how to protest to support reproductive rights at the Supreme Court, so Trump's vision isn't an immediate reality.
It's important to note that Kennedy, who announced his retirement on June 27, was appointed by Republican President Ronald Reagan as a conservative judge, although his voice on the bench leaned more towards the center. It was Kennedy who wrote the ruling that made same-sex marriage legal across the nation in 2015's Obergefell v. Hodges, and during abortion rights case Planned Parenthood v. Casey in 1992, Kennedy ruled in favor of Planned Parenthood thus reaffirming Roe v. Wade, according to CNN. Aside from everything he's done while a justice of the Supreme Court, his leaving weighs heavy on those who believe in abortion rights because it's now up to Trump to fill the seat. With Kennedy's successor — likely someone who isn't pro-choice — and four other conservatives in the Supreme Court, there's a high possibility that Roe v. Wade could be overturned.
Now that the battleground is set for a fight over reproductive rights, many of us are looking for ways to help make sure that Roe v. Wade stays intact and choice is still on the table.
Here are some ways you can protest to help ensure the future of reproductive rights: