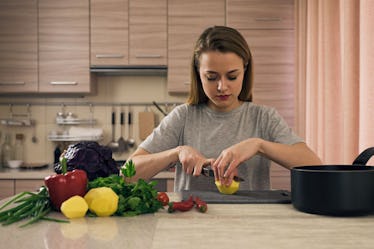 Meal Prepping Isn't Always Easy, But These 6 Tips Can Make It Way Less Intimidating
Meal-prepping definitely makes my life easier. It's so convenient to be able to reach into the fridge after a busy day and have one of my favorite dishes all ready to eat. But once Sunday afternoon rolls around each week, I have to admit that I have very little motivation to pull myself away from my latest Netflix obsession during those last few precious hours before the work week begins again. I'm always on the hunt for tips and tricks for how to make meal-prepping easier because it's just so hard not to dread it. With just a few tweaks to your meal-prep routine, though, the chopping and sautéing can start to feel less like a chore and more like a time to care for your body.
Annessa Chumbley, a registered dietitian and nutrition consultant for Premier Protein, tells Elite Daily that something as simple as turning your meal-prep time into a boogie session with your favorite music can take it from tedious to fun (no dancing with knives, though, please).
In addition to cranking up the tunes, there are plenty of other ways to keep your time in the kitchen from being something you absolutely dread. Tie on your cutest apron, put on some funky music, and get ready to get cooking.