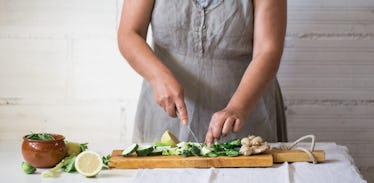 5 Foods You Should Keep Handy So You Can Always Make Something Healthy
Whether you've made a New Year's resolution to eat more healthy meals at home, or you're simply ready to dedicate yourself to a healthier lifestyle, it's a worthy goal to focus on healthier eating.
But the problem is that goals aren't always very achievable. It's important to pick reasonable goals and work toward achieving them with smaller steps.
When your goal is to cook more healthy meals at home, you'll make it easier to reach and maintain your goal by carrying out a weekly meal prep session.
When you prepare certain ingredients in advance on the weekend or whichever day or evening is convenient for you, you'll make it easier to throw together healthy meals when you're low on time, stressed or tired after a long day.
Here are five food items to prepare in advance and throw into your meals throughout the week:
1. Shredded Chicken
Shredded chicken is one of the best ingredients you can have on hand because it's easy to put together a complete meal in no time when you don't have to worry about cooking your meat on a weeknight.
Throw your pre-cooked chicken into tacos, salads, soups, risotto, enchiladas and a million other meals. You could also use cold turkey or pork.
2. Hard-Boiled Eggs
This type of egg provides a perfect protein for many meals, especially if you're looking for a vegetarian option!
Hard-boiled eggs complete a chef salad or almost any salad. You could turn them into deviled eggs or egg salad. And you could add sliced eggs to sandwiches, make them part of your breakfast or even add them to soup like in this Beef Noodle Soup recipe!
Plus, hard-boiled eggs provide an energy-boosting snack you can grab in between meals.
3. Bone Broth
When you have bone broth on hand, you have an instant base for soups and stews — you just have to throw in some other ingredients, whether they're fresh, frozen or canned.
Plus, bone broth adds flavor to rice, quinoa as well as similar sides and you can add it to sauces, slow cooker recipes and other meals for added flavor, nutrition and moisture.
Bone broth adds nutrients to your diet and provides a lot of flavor without adding a lot of sugar or fat to your diet.
You can make this ingredient in advance and keep a stock in the fridge and freezer, or make your life even easier by purchasing a prepared version.
4. Pre-Prepared Vegetables
Chop, slice or shred various types of vegetables you like in advance. You could prep peppers, carrots, potatoes, lettuce and all of your other favorite veggies.
This is a great time-saving step during the week that can help you get more of the low-fat and highly nutritious value of vegetables.
Then, you can throw your pre-prepared veggies into soups, stews, salads, stir-fries, tacos and many other meals.
5. Grains
Grains provide another staple you'll use in dishes throughout the week. When you try to cook grains with your meal, they can take a while to cook or they just create more work and pots when you're trying to get your meal together.
Instead, cook a large amount of your pasta, rice, quinoa or other grain in advance and store it in your fridge. Build your meals around this grain for the week. If it gets a little dry, add some water or some of your bone broth when you heat it up or mix it into your dish.
When you cook these kinds of ingredients during your weekly meal prep and have them on hand, you can just throw them together into a quick meal during the week. Then, it's easy to add these ingredients to other options in your fridge, such as tortillas, cheese and canned beans.
And of course, you can add flavor to your dishes by having a stock of herbs, spices, sauces and ingredients like Organic Red Wine Vinegar or balsamic vinegar. Also, it helps if you can plan some of the meals you want to have in advance so you can prep the right ingredients.
Of course, this is not a complete list of all ingredients that could help you make meal preparation easier on a day-to-day basis.
Nonetheless, we hope this list will get you started with ideas of what you can make in advance and how they can make weeknight meals easier and healthier.
Sharon Chen is the author of DelishPlan.com, where she helps busy professionals plan easy and delicious homemade meals in less time than they ever thought possible.
Download her free Top 7 One-Dish Meals Mini Cookbook so that you can put scrumptious and healthy dinners on the table as quickly as possible.
Citations: Stop Throwing Food Away! How to Store Leafy Greens (Whole New Mom), How To Make The Perfect Shredded Chicken and Chicken Broth At Home (DelishPlan), Kettle And Fire, Beef Noodle Soup (Szechuan Style) (DelishPlan)