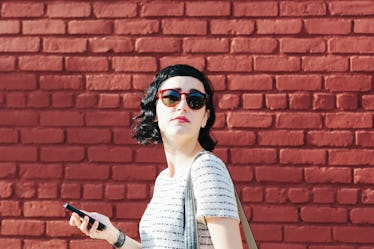 How To Keep A Long-Distance Friendship Thriving, Just By Using Text Messages
Trying to maintain a strong bond with a friend you don't see very often can be challenging for just about anyone. Between work and keeping up with your jam-packed planner on the regular, life seems to get in the way. But thanks to social media and cellphones in general, it's super simple to come up with a solid game plan on how to keep friendships over text, so you can let your bestie know they are still an integral part of your life, no matter how far away you may live from each other.
Keeping in touch with a long-distance friend shouldn't be taken lightly. It definitely requires more of a time commitment than a friend who lives right around the corner from you takes. Long-distance friendships can work if you perfect your text game to keep the good, genuine vibes alive.
To help give you a better idea of how you can maintain a friendship over text, Elite Daily reached out to relationship and etiquette expert and author, April Masini, who also runs her own relationship advice forum. Obviously, every friendship is so unique and special, but when you live far away from your friend, you can't go wrong approaching your situation with a variation of one of these text scenarios.