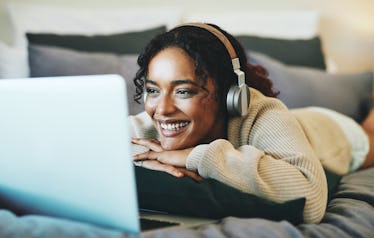 If You Want To Get Frisky On FaceTime, Here's How To Do So Safely
Delmaine Donson/E+/Getty Images
Sexting and exchanging nudes is fun, but it's not always enough to get you off when you and your partner can't be together IRL. More than sexy Snapchats — and even more than tried-and-true phone sex — FaceTime sex is the closest you can get to enjoying the real-time thrills of sex IRL, and it's not just for committed couples. FaceTime sex with a casual partner can always be an option if you want it to be. But, like with in-person sex, safe FaceTime sex should always be a priority — especially when you're doing it with someone you don't know too well.
In a long-distance relationship, you and your SO already have an established foundation of trust. Partners can nurture intimacy for months, or even years, before going long-distance. But that trust might not exist with someone you've only known for a few weeks, or with someone you've never actually met IRL at all. That's why it's important to take safety precautions during sex — no matter what form it takes — just like you would with IRL f*ck buddies, flings, and one-night stands.
Keep these pro-tips in mind if you're curious about how to have FaceTime sex safely.