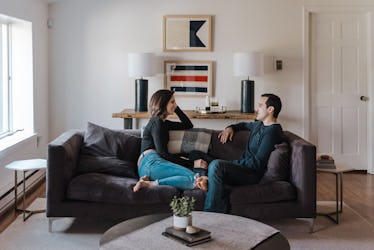 Here's How To Get Your Partner To Really Listen To You & Pay Attention
For many people, relationships can seem like a happy-go-lucky trailer for a romantic comedy starring Kate Hudson. But in reality, relationships are just as much work as anything else worthwhile, and they come with their own, unique challenges. Some couples have a hard time with trust, others with communication. Whatever the case, you're not alone, and if you are struggling with a significant other who never seems to pay attention, knowing how to get your partner to listen is a great tool to keep handy.
If your partner doesn't seem to listen to you a lot of the times, try to remember that there are always going to be instances when neither one of you is paying attention to the other. "In all reality, it is impossible to be 100% plugged into life 100% of the time," sexologist Martha Tara Lee tells Elite Daily. "Most of the times we are going through life in hynoptic (semi-awake) states and don't even know this, e.g. morning routine, commuting, etc.," she explains. "Hence, when your partner speaks to you during this time, you're not listening and have no recollection of the conversation!" So just know that it's not an uncommon feeling. In fact, dating and relationships expert and licensed marriage and family therapist, Anita A. Chlipala, tells Elite Daily that it's "a common complaint of my clients."
Fair enough — but what can you do about it?