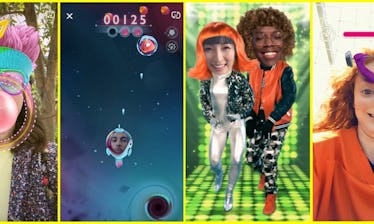 It's So Easy To Get Snapchat's Snappables Games To Finally Join In On The Fun
SNAPCHAT
It's been months since Snapchat's Snappables were rolled out on April 25, 2018, and I've finally stopped doing a double take when I see strangers making the silliest faces at their phones in public. Anyone who's witnessed a Snappables battle knows they're completely hilarious, and it's almost impossible to look away. If you haven't tried the photo-sharing app's new feature yet, here's how to get Snappables games on Snapchat to challenge your friends to a giggle-inducing face-off. Even if you normally shy away from public displays of any sort, you might need to make an exception in this case, because Snapchat's Snappable Games are literally so addicting.
Since Snapchat launched the cool new virtual reality games on April 25, Snappables have been coming to users' phones on a rolling basis. Even so, you might have just gotten access to it, so here's how you can get in on the action. To find them, first head over to Snapchat's selfie cam, and then select the screen to access the Lens carousel. From there, you can go to the left to access that week's game offerings. If you're not seeing them, double check to make sure your Snapchat has the latest update.
Once you have them, you can get your game on, which should look a little something like this:
Get ready to give your facial muscles workout of a lifetime, because that's how you'll be controlling the games. Whether you're facing off against one of your friends by lifting a heavy bar with one eyebrow, warding off space invaders with your head, or show off your dance moves, you'll want to bring your A-game to the competition. Sure, games are also controlled by touch and motion, but the wacky faces have to be the best part of all this. I know it's not an official rule, but I think it's pretty clear that the person with the silliest face always wins.
If anything, what's better than having a silly Snap streak with one of your friends? The only caveat about Snappables is that I predict all of your productivity will go out the window once you figure out how to play. Who wants to sit down and get work done when you could be roaming public places and making a fool of yourself with expressions that are weird AF? Not me.
Per Wired, "users can add friends to a rock band, challenge them to an emoji dance-off, or play basketball," but that's not all. Games reportedly rotate on a weekly basis, so you're sure to never get bored and always have a reliable chuckle fest on hand. As of publication, there are Snappables options like interactive tic-tac-toe and a fun game of "Would You Rather?"
Time-suck or not, I think the move is a good one for Snapchat. I mean, is there really anything better than competing in a dance battle with your friends via emojis? Now, if only Snapchat would bring back its old app design, I'd be a happy camper.