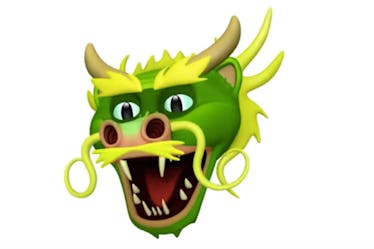 4 New Animojis Are Available On iPhone X With The New Update & They're So Cool
Other than the fact that the iPhone X has a giant screen, no home button, and a great camera, I truly feel like I'm missing out on owning one because of the exclusive Animoji library. While I'm still able to receive the talking and moving creatures from other "X" users, I can't send them on my own, and that's the real kicker that truly kills me. If you do happen to be an iPhone X user though, rejoice — because the latest iOS update was just dropped, and it's bringing even more Animoji options to the table. If you don't already have them, here's how to get new Animojis with the iPhone X 11.3 update, because it's so worth it.
As a longtime smart phone user, I'm completely aware software updates can be kind of a crapshoot. Sometimes they can lead to increased slowness, but other times they can result in additional emojis, which is ideal. Or, if you have an iPhone X, they can lead to an even greater number of Animojis, which is the best possible situation. The latest iOS 11.3 update, per an Apple blogpost, was officially dropped on Thursday, March 29, and it gives users to access to four new Animojis: a dragon, lion, bear, and most importantly (for all of my 2009 emo-era needs), a skull. Yes queen, bump that sad boy music ASAP, because you better believe that I am absolutely going to be living, breathing, and speaking as a floating skull for the rest of my damn life.
To make sure your iPhone X downloads iOS 11.3, just go to settings and make sure your iPhone is totally up-to-date. If it's not, update your phone, and be prepared to discover all of the latest and greatest Animojis added to the iPhone X Animoji library. The new lion, bear, dragon and skull are four new additions to the already-existing Animoji lineup, which includes a monkey, robot, cat, dog, alien, fox, poop, pig, panda, rabbit, chicken and a unicorn. Animojis allow iPhone X users to talk and move as a freaking animal (or an inanimate object, such as poop) — and in my opinion, they're seriously the most entertaining aspects of a smart phone.
If it happens to be your first time using an iPhone X and you aren't sure how to use the Animoji feature, it's shockingly easy. Once you have access to your phone, navigate to your messages, and select who you're sending the Animoji to. After selecting a text thread, select "Message Apps," the little blue "A"-looking icon to the left of your iMessage box. Then, select the Animoji icon, and choose your favorite Animoji. Upon hitting record, your Animoji will talk as you talk, move as you move, and imitate a majority of your facial expressions (thanks to facial recognition on the iPhone X). After creating your 10-second recording, hit send. Now you're officially done. The best part of it is that you can send it to non-X users as well. They might get jealous, but it's OK.
The iOS 11.3 update also includes a series of other great new features. One of them, called Health Records, helps patients from over 40 hospital systems keep several medical records in one place. The new Batteries and Performance feature shows the iPhone's battery health, recommending if a battery needs to be serviced by Apple. A new feature for Apple Music also allows users to now stream music videos, which can play completely uninterrupted by ads.
If you're an iPhone X user, get ready to live your dreams as a dragon and breath smoke like you were born to. Better yet, become one with the forest and transform yourself into a lion or bear, or live out your angsty teenage dreams as a skull. The possibilities of Animojis are truly endless, and I will never not be extremely jealous if you have them.