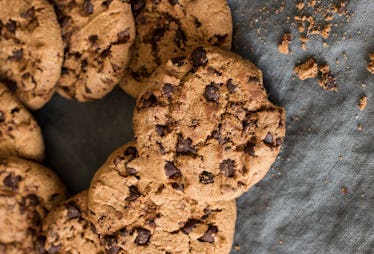 Stop By This Hotel Chain For Free Chocolate Chip Cookies This Weekend
I take my food holidays seriously, and one of my favorites is coming up. National Chocolate Chip Cookie Day will be here on Saturday, Aug. 4, and I'm already thinking about the warm, gooey chocolate chip cookies that I'm going to devour. Ideally, I'd like to visit the restaurants that are giving away complimentary cookies, because I don't have an endless supply of cash to spend on sweets. Thankfully, one Hilton hotel chain is celebrating the holiday by offering free cookies to everyone who stops by. If you're intrigued (and hungry), let's talk about how to get free chocolate chip cookies from DoubleTree this weekend.
Before I begin, allow me to make this clear: There is a difference between National Chocolate Chip Day and National Chocolate Chip Cookie Day. National Chocolate Chip Day fell on May 15, 2018 (if you missed it, I'm sorry). Many eateries offered free cookies on the holiday, and it was glorious. However, National Chocolate Chip Cookie Day is entirely different, because actual cookies are mentioned in the name. Got it? Good.
Now that I've addressed your chocolate chip concerns, let's move on. Free DoubleTree Cookies are in your future, and I need to tell you the delicious details.
On Saturday, Aug. 4, DoubleTree by Hilton locations will give the public free chocolate chip cookies in honor of the holiday. There is no catch, and you don't need to be a guest at the hotel in order to get one. All you have to do is walk in, grab a cookie, and go. It's that simple, guys.
Shawn McAteer, senior vice president and global head of DoubleTree by Hilton, talked about the generous offer in a press release. He said,
Providing a warm welcome to guests is in our DNA at DoubleTree by Hilton, and that starts with our signature DoubleTree Cookie at check-in. From offering free Cookies, to inspiring culinary creations, to appointing our first-ever Chief Cookie Officer, this holiday is all about celebrating the welcome our warm Cookie represents.
Well, I'll definitely be stopping by a DoubleTree by Hilton on Saturday for a free cookie. To find a location near you, fill out the "Find Your Hotel" form on the company's website.
If you've already visited a DoubleTree by Hilton in the past, you're probably aware that the hotel chain is known for its warm DoubleTree Cookies. The company has been giving its guests complimentary cookies at check-in since 1986, and continues to do so. In fact, the chain gives more than 75,000 cookies away each and every day, according to a press release. That means over 27 million cookies are given away by DoubleTree each year. That's a lot of cookies.
If you aren't able to stop by a DoubleTree by Hilton location on Saturday, don't fret. You can buy the hotel's famous treat on The Cookie By DoubleTree's website. There are two options you can choose from, which include a tin of DoubleTree Cookies for $14.95, or Bake At Home Cookie Dough for $45.95. These options are obviously not free, but they still sound delicious.
If you're only searching for free cookies, stop by DoubleTree by Hilton on Aug. 4. Your taste buds (and wallet) will thank you.