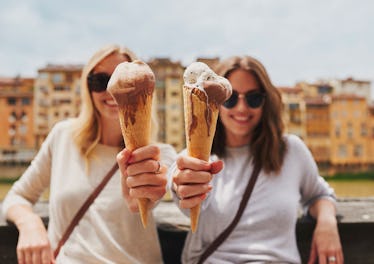 You Can Get Free Breyers Ice Cream Delivered To You On National Best Friends Day
National Best Friends Day is just around the corner — and if you are looking for a way to celebrate your fabulous BFF this year, then I've got just the gift for you. It's delicious, and most importantly, it comes at no cost. Breyers, one of America's beloved creameries, is giving away free ice cream pints in honor of the unofficial friendship holiday on Friday, June 8. Yup, you read that correctly. Everybody knows that ice cream is the ultimate sign of true friendship. Here's how to get free Breyers ice cream pints on National Best Friends Day.
So you want to treat your bestie on National Best Friends Day, and a pint of free ice cream from Breyers is about as sweet as it gets. The frozen dessert company will be giving away pints of ice cream (that's right, giving it away) to you and your best pal on Friday, June 8. There is a bit of a catch, though. In order to scoop up your free pints of ice cream in person, you will need to live in New York City, San Francisco, Chicago, or Philadelphia. At 12 p.m. local time, Breyers will be delivering Cookies & Cream Breyers delights to lucky fans.
To get your pint, you'll need to send a tweet using the hashtag #BreyersBFF with the two-hearts emoji and the ice cream emoji. Once your tweet is sent, a message from the Breyers Twitter account will pop up and include a link to a microsite where you can plug in your address and other location information for delivery. I don't know about you, but this is super exciting news (and a fabulous way to head into the weekend).
If you do not live in one of the cities listed above, not to worry. Breyers is giving BFFs from all over the country a chance to celebrate, regardless of their zip code. Anyone can claim their free pint of ice cream by following the same instructions. Just send a tweet with the hashtag #BreyersBFF, and the ice cream company will send you a link to claim your product coupon for $2.50 off a pint of Breyers delight. Once the coupon arrives, print it out and bring it to your local grocery convenience store (or wherever Breyers ice cream pints are sold), and get your discounted half-quart of frozen Cookies & Cream deliciousness.
The summer is full of deals to cool down you and a friend, so if you somehow seemingly miss out on your free Breyers pint this National Best Friends Day, that's OK. There's another lusciously sweet holiday on the horizon, and it is National Ice Cream Day. The cool and tasty celebratory day falls on the third Sunday of July each year, and that means it is just around the corner. I don't know what kind of sweet surprises National Ice Cream Day has in store, but I'll be there are more than a few tasty treats in the works. Stay tuned for more on that front.
Back to this deal for now, because you should never let free ice cream pass you by. Truth be told, nothing is better than treating yourself (and a friend) to a little something free and sweet to celebrate your lifelong companionship. Remember those secrets you swore you would never tell? All of the pinkie promises you and your BFF made? Make it them official and seal the deal for good over a pint of Breyers ice cream on June 8. And if you're out of town, go ahead and score your coupon for a discounted pint.