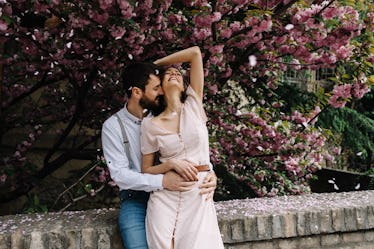 4 Tips For A Public Quickie That'll Lower Your Chances Of Getting Caught, You're So Welcome
If your sexual routine with bae is getting a little monotonous, a change of scenery can be an awesome way to spice things up. For some folks, the thrill of having a "quickie" in public is the perfect touch of excitement to add to the mix. If you've ever wondered how to get away with a public quickie, it's important to note that having sex in public is illegal no matter which way you slice it. Depending on the situation, getting caught could result in a Class A Misdemeanor, or a Class B Misdemeanor, which could lead to a hefty fine, or even jail time. So, needless to say, proceed with caution.
I spoke with Jess O'Reilly, Ph.D., sex expert and host of the @SexWithDrJess podcast, for tips on how to have a public quickie, and how to minimize your chances of getting caught. "Public sex carries an element of risk, which can heighten excitement, desire, passion, and intimacy — if you balance this risk to ensure personal safety," O'Reilly tells Elite Daily. "Having sex in public is one example of an activity that can heighten passion, break the monotony and keep sex spicy." Here are her tips for trying a public quickie in the safest way possible.