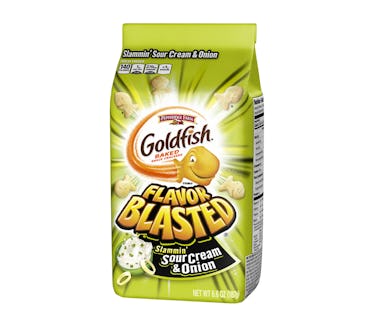 You Can Get A Refund If You Bought Recalled Goldfish Crackers & It's So Easy To Do
If you're an avid snacker, you're probably aware that four varieties of Goldfish Crackers were recalled by Pepperidge Farm on July 23. If this is a surprise to you, maybe it's time to clean out your pantry and make sure none of the recalled flavors are sitting inside of it. If you do find one of the packages that Pepperidge Farm warned customers about in your kitchen, don't immediately throw it a way. Instead, set it aside — because you can easily get your money back. To find out how to get a refund on recalled Goldfish Crackers, read on.
The process of getting a refund for your Goldfish Crackers is quite simple. When Pepperidge Farm first announced the recall on their website, they included information about what customers can do to get their cash back. Thankfully, there are two ways you can go about it. If you're in the mood for a quick trip to the grocery store, you can return your recalled Goldfish Crackers to your place of purchase. The store will then give you a full refund, and you'll be all set.
Another way customers can get a refund on their Goldfish Crackers is by clicking here for a reimbursement. Pepperidge Farm will then take you through a questionnaire on the company's website before you can get your refund. Prior to starting the process, you should know the sell by date, product, and package code of your questionable cracker package. You can find the package code by scanning this chart, which was provided by Pepperidge Farm as guide for customers who may have purchased recalled crackers. This option is ideal for people who wish to get their money back without leaving the comfort of their home.
Now that you know how to get a refund on your Goldfish Crackers, you should probably know which flavors Pepperidge Farm has recalled. The company singled out four specific types, where are listed below:
Flavor Blasted Xtra Cheddar
Flavor Blasted Sour Cream & Onion
Goldfish Baked with Whole Grain Xtra Cheddar
Goldfish Mix Xtra Cheddar + Pretzel
According to Pepperidge Farm's official announcement, these four flavors have been seasoned with powder that may contain salmonella. Apparently, the company was contacted by one of its ingredient suppliers about the whey powder in the seasoning, because it might be contaminated. As a result, Pepperidge Farm voluntarily recalled the selected flavors and is encouraging customers to avoid eating the products.
The crackers in question were distributed throughout the U.S. — but thankfully, no illnesses have been reported yet. If you're still debating whether or not you should eat the Goldfish Crackers sitting in your cabinet, be sure to check out this chart that Pepperidge Farm attached to their recall announcement. The chart shows customers which Goldfish Crackers are recalled, and the type of packaging they came in. Be aware that the recalled crackers were packed in different boxes, bags, and variety packs.
Again, if you do find yourself with a recalled package of Goldfish Crackers, don't throw it away immediately. Instead, get your refund by either returning it to the store you bought it from, or by filling out a reimbursement form on the company's website. For more info on the recalled snack, you can call Pepperidge Farm's Customer Service at 800-679-1791.