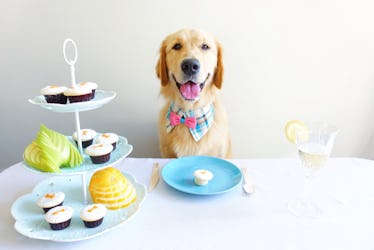 It's So Easy To Treat Your Dog To A Free 'Pupcake' On National Dog Day
Sprinkles
Sadly, I don't have a dog of my own yet, but I always say that when I finally get a pupper — after years of saving up for one — I'll go out of my way to spoil the heck out of her on a regular basis (yes, my friends, she's going to be a lady, and her name is Antoinette). Anyway, if you're currently blessed with a fur-ever friend and you want to show them just how much you love them, here's how to get a free Sprinkles "Pupcake" to celebrate your beloved pooch on National Dog Day. I swear this is "fur" real, and it's the best deal of the year.
In case you didn't know, National Dog Day is coming up very soon on Sunday, Aug. 26. If you don't want to feel like the worst dog mom or dad ever by forgoing a gift, I have a super tasty treat that your pooch — and your wallet — will absolutely love. Gourmet cupcake shop Sprinkles will offer free "Pupcakes" to customers at Sprinkles locations nationwide on Saturday, Aug. 25 through Sunday, Aug. 26, per Sprinkles. Usually, Pupcakes go for anywhere between $2.50 and $3, but you can get a free one with the purchase of any regular Sprinkles cupcake by simply whispering the phrase "Puppy Love" to your cashier. It's really that easy, and your doggo will love it.
Just look at how happy these good boys and girls are with their Pupcakes!
Oh, and in case you were wondering, Pupcakes are totally dog-friendly. They're sugar-free, per Sprinkles, and they're also topped with a tasty yogurt frosting. TBH, they look just like a regular cupcake you and I might eat, and they sound doggone tasty to me. I can't wait to see photos of all you dog owners eating regular cupcakes next to your Pupcake-eating dogs. Honestly, that will be too freaking cute.
With National Dog Day on the mind, you might just find yourself thinking about welcoming a furry friend into your life. If you're looking to adopt a dog anytime soon, you can actually adopt pups from the TSA who failed for being "too nice." The TSA trains German Shorthaired Pointers, Labrador retrievers, German shepherds, and Belgian Malinois puppies. Some of these doggos don't qualify to work for the government, because they may have been too nervous, hyper, or playful. To apply, check out the TSA's adoption program on the TSA website, and make sure your household complies with the minimum requirements listed. These include having a fenced-in yard, having no intentions of moving within the next six months, and providing the dog with proper care Then, you can apply, and you'll hopefully get one in the next few months. I'm all about #AdoptDon'tShop, so if you're looking for a pooch like I am, this is a perfect place to start.
I'm all for treating dogs like royalty, so if you don't get your pupper this magical Pupcake, I probably will. Dogs deserve to be celebrated, and what better way is there to celebrate National Dog Day than with a Pupcake? The answer is obvious: there's no better way to celebrate. So, get your puppy-lovin' butt over to Sprinkles on Aug. 25 and Aug. 26 to throw down for the greatest holiday of the year.