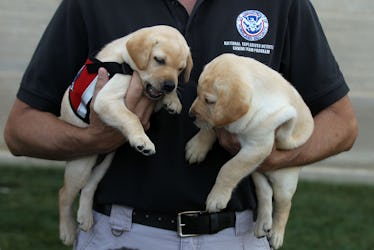 If You Want To Adopt A "Good Boy," These Would-Be TSA Pups Are Perfect For You
Alex Wong/Getty Images News/Getty Images
I had a classmate in college who trained seeing eye dogs. Sometimes the pooches made it to the next step to ultimately help out a human in need, but other times, they didn't pass the test. Some of the pups just weren't super interested in going through the training. Although these "dropouts" didn't become seeing eye dogs, they are still incredibly good doggos — they simply weren't ready to take on the responsibility tasked to a guide dog. And if you're looking to adopt a really "good boy" (or girl) just like them, here's how to adopt a dog that failed TSA training for being "too nice."
If you're looking for a really, really good German Shorthaired Pointer, Labrador retriever, German shepherd, or Belgian Malinois pup that didn't quite make the cut for government work, take a second and look into the Transportation Security Administration (TSA)'s adoption program. According to INSIDER, many of the pups who are up for adoption aren't totally house trained, some might be a little nervous, and many are highly active. Several doggos, on the other hand, are simply older dogs that have retired from working in government service. As you'd imagine, these retired pups are extra qualified to become your new pal. The fate of your fur-ever friend, however, totally depends on which dog you apply for and match best with.
If you do decide to apply for this glorious doggo opportunity, make sure your household meets the minimum requirements listed on the TSA website. Said requirements include having a fenced-in yard, having no intentions of moving within the next six months, and providing the dog with proper medical care, training, exercise, and love. If you have other pets, make sure they're up-to-date on all of their vaccinations, and keep in mind that the age of any children living in the home will also be considered.
Finally, approved applicants must travel to San Antonio, Texas, to meet the dogs in person, as the TSA won't ship any of the dogs. You might even need to make more than one visit, because the TSA won't do same-day adoptions, either.
Per TSA's website, the dog-adoption process starts with an application. If you qualify, you'll be put on the waiting list. Soon enough, you'll receive an email with photos and profiles of available pups, and you'll be able to schedule an appointment to meet with the dogs. The TSA will ask for references, will want to schedule an interview, and might even want photos of your house. Yeah, it's a little intense, but would you expect anything less from TSA? Plus, anything as good as adopting a sweet pup is worth a little sweat equity, right?
Eventually, after a few visits to their adoption facilities, a match will be made. Processing the adoption can take a few days — or even up to a couple of weeks — per the TSA website. You'll be required to pick up the dog with a leash, collar, and shipping crate; you'll also have to sign some papers, agree to have your dog microchipped, and take home loads and loads of medical records. Once that's all set, you'll officially have your good boy for the long run.
I'm always a supporter of #AdoptDon'tShop, and adopting an almost-qualified-for-TSA dog is now entirely possible. Maybe said pup was too nice, too playful, or they just weren't interested in being a government doggo, but regardless of the reason, they need a fur-ever home. Be prepared for all the snuggles.