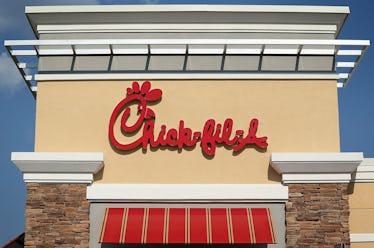 You Can Get A Free Chicken Sandwich From Chick-Fil-A This Week By Doing One Simple Thing
Alex Wong/Getty Images News/Getty Images
Working in an office can be super stressful for a multitude of reasons. You might be expected to dress a certain way, and you're always supposed to maintain a certain level of composure at all times. Yikes. The worst part, however, is the food situation — you either have to wake up early to make a sad desk lunch, or, alternatively, you have to buy a $15 salad, which isn't cost-effective at all. Since neither option is ideal, Chick-Fil-A's free sandwiches are the way to go. So, if that's up your alley, here's how to get a free Chick-Fil-A sandwich through DoorDash.
From Tuesday, Nov. 13 until Tuesday, Nov. 20, Chick-Fil-A is offering customers the chance to get a free Chick-Fil-A sandwich delivered to their doorstep. To get one for yourself, according to a press release, all you have to do is place an order through the DoorDash app or website after 1:30 p.m. ET. If your order amounts to $5 or more, use the promo code "CFADELIVERY" while checking out, and you'll get your one free sammie. Sounds easy, right? Make sure to get on it ASAP, though, because they're only giving out 200,000 sandwiches total, and you definitely won't want to miss out on this. That would be a major disaster, if you ask me.
Chick-Fil-A is running this generous (and let's face it: freakin' glorious) free sandwich promotion in celebration of their new partnership with DoorDash. Yes, you heard that correctly — according to the press release, over 1,100 Chick-Fil-A restaurants nationwide will now be delivering to fans through the online food delivery destination, so you won't have to leave your cubicle (or honestly, your couch) to get your hands on that tasty, crunchy chicken. Did you hear that? No more sad desk lunches, and more importantly, no more of those mediocre $15 salads. My mouth is watering, and my stomach is ready. Bring it on, DoorDash... bring it on.
In a press release, Chick-Fil-A's Senior Vice President Jon Bridges said they simply decided to start delivering because customers' lives get busy. Partnering with DoorDash was a simple solution.
In the press release, Bridges said:
So many of our guests' busy lives and family commitments have them strapped for time. Delivery is one way we can help them get a quick yet high quality meal. If they're unable to come to us, we'll come to them.
In addition to their new partnership, Chick-Fil-A is also testing out Mac and Cheese on their menu. That's right — it's been in testing since 2017, and their recipe includes a tasty blend of cheddar, parmesan, and Romano. While it was originally only being tested in Greensboro, North Carolina; Phoenix, Arizona; and San Antonio, Texas in mid-July, it's now officially posted on its website with plans to expand to additional cities in 2018. Get psyched, people: Chick-Fil-A seriously is on their A-game.
Office jobs are tough, I get it. But, ordering a chicken sandwich to your desk — for free — would make it exponentially better. You can only get it on the house for a limited time, though, so act fast... before I eat them all single-handedly.