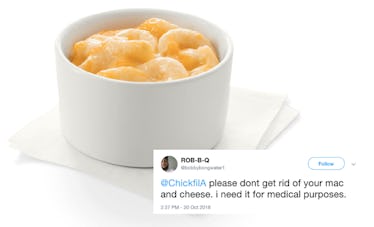 People Are Freaking Out About Chick-fil-A Testing Mac 'N Cheese On Their Menu
CHICK-FIL-A/Twitter
America's favorite fast food chain is rounding out its comfort food offerings by blessing its customers with the most essential staple of them all: Mac 'n cheese. That's right, Chick-fil-A is testing mac 'n cheese in select cities around the country, and according to the people who've tried it, the cheesy carb feast has been well worth the wait. Here's where you can get your hands on the Georgia-based chain's newest side, because you're not going to want to sleep on this deliciousness.
According to Business Insider, Chick-fil-A has been testing out the decadent Southern delicacy since 2017, when it decided on a signature mac recipe involving the gooey and totally addictive cheese blend of cheddar, parmesan, and Romano. At the time, the chain revealed that it would be testing the mac 'n cheese as well as bacon baked beans in select locations in Greensboro, North Carolina; Phoenix, Arizona; and San Antonio, Texas in mid-July. Now, the chain's mac is officially on its website and expanding to even more locations in 2018. TBH, this might be the highlight of this year so far, and there's a chance you can grab a side (or three) for lunch today.
Chick-fil-A confirmed to Elite Daily in a statement that the chain is "currently offering Mac & Cheese as a side item in several cities as part of a limited-time test," which means that Chick-fil-A faithfuls can currently get their hands on the chain's newest side in the original three testing cities as well as three brand new locations: Nashville, Tennessee; Baltimore, Maryland, and Houston, Texas. Now that the secret is out, Twitter literally has zero chill over the fact that mac 'n cheese from Chick-fil-A now exists in the United States, and if you don't happen to live in one of these cities, I'd recommend planning a road trip with your friends ASAP and getting your fill of chicken nuggs and all the mac you can carry. Trust me, your taste buds will be so happy.
At this time, it's still up in the air whether or not the retailer will be rolling out their potent cheesy formula nationwide. "These tests will help Chick-fil-A decide whether or not the menu item will become available nationwide in the future," Chick-fil-A informed Elite Daily about the future of its newest offering.
The good news? According to the Twitterverse, the hype is real over Chick-fil-A's tasty menu addition, and I have a feeling that it's only a matter of time before the most hallowed of all sides makes its way to a Chick-fil-A location near you. When people are claiming that Chick-fil-A's mac "keeps [them] alive," you know it's already a cult favorite.
Considering the fact that people are having serious ~ feelings ~ about Chick-fil-A's side, I'd recommend ordering in a large tray to your office or home if you're trying to skip the long lines. Per Chick-fil-A, customers who live in the "designated markets" can also opt to order the chain's mac 'n cheese in a small or large tray off the catering menu if you're trying to get your fill of cheesy carbs with minimum hassle. Seriously, what a time to be alive.