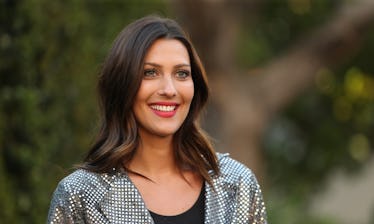 Here's How To Follow Becca's 'Bachelorette' Contestants, So You Can Stalk Them All
ABC
For all you who are totally over Bachelor Arie Luyendyk, prepare yourself for the newest Bachelorette, Becca Kufrin, who will be choosing one lucky man to make her bae in the show's fourteenth season. Kufrin, a publicist from Minnesota, met and fell in love with Luyendyk, got engaged on national television, and then was dumped there, too. It was pretty awful to witness, but fortunately, Kufrin has brushed herself off and is trying again — only this time, she's in control (Girl Power!). That's right, our girl gets her pick of the litter and will have 28 gorgeously handsome men swooning to be her one and only. And, if you're nosy like me, you want to size these dudes up. Well, you're in luck, because I have all their social media info that's just begging to be stalked. Check out how to follow Becca's Bachelorette contestants below. You can thank me later, boo.
Let's first just give Becca a small round of applause for putting herself out there once more, determined to find love again. In an interview with Variety, Becca talked about how The Bachelorette is all about being ready to seek that kind of commitment to someone. She said,
At the end of the day, the show is about finding love. I have a lot of love to give. I want to be the best damn Bachelorette I can be. I'm so excited. I want to find love. I'm just so excited, I just want to do this.
Yas, queen! You've got this, and we're all rooting for you. Now, let's check out your roster of incredibly good-looking humans.
1. Lincoln Adim, 26
This adorable hunk is originally from Nigeria, but spent his childhood in the UK. Now he's an account sales executive living in Los Angeles, CA, and, judging by his photos on Insta, is *pretty* into fitness.
You can find him on Instagram @linkin_. Unfortunately, it seems that he has no Twitter account, so you're just going to have to keep your drooling over him strictly on IG.
2. Chase Vergason, 27
This cutie currently lives in Winter Park, FL, and used to play for the South Carolina Gamecocks baseball team, so he's ~kind of~ a big deal. Based on his social media, he's also into fitness, so that's 2 for 2 so far.
You can find him on Instagram @chasevergason (though his account is private, boo) and on Twitter @vergason16.
3. Ryan Peterson, 27
Ryan Peterson was living that ~boat life~ in Boston, MA, but now resides in sunny Manhattan Beach, CA. He also plays the banjo, so that's kinda hot.
While his account is set to private (damnit), you can still find him on Instagram under the username @ogrp.
4. Darius Feaster, 27
Feast your eyes of Darius Feaster, who is a former football player (can you tell?) and now works as a pharmaceutical sales representative in Los Angeles, CA. Based on his social media photos, his smile is even more incredible than his abs, if that's even possible.
You can find him on Instagram @feasthebeast, and, while he's not active on his Twitter account, @FeastTHEBEAST, I'm very OK with just scrolling through his selfies on his Insta feed.
5. Blake Horstmann, 28
Horstmann's Instagram account is set to private (I'm literally weeping again), but a quick look at his bio reveals that he sells (and loves) beer in Denver, CO, and also enjoys traveling. Based on of what I know about Horstmann, I'd be very much fine with jet-setting with this guy.
You can find him on Instagram @balockaye.h.
6. Clay Harbor, 30
This heartthrob is currently an NFL free agent tight end, and has previously played for the Philadelphia Eagles and the New Orleans Saints, so basically someone that I describe as an "overachiever."
You can find him on Instagram @clayharbs82 and on Twitter @clayharbs82.
7. Nick Spetsas, 27
This man is a snack, y'all. He currently lives in Palm Coast, FL, and is an attorney with the Eraclides, Gellman, Hall, Indek, Goodman, Waters & Traverso firm, so he's got beauty AND brains.
You can find him on Instagram @nickspetsas and on Twitter @NickSpetsas.
8. Rickey Jasper, 27
Cue the applause, because it looks like we've got another bodybuilder on our hands. Jasper has a degree from James Madison University with a Bachelor's in Computer Information Systems and makes his living as an IT consultant. I like an intelligent guy, and I like an intelligent guy with muscles for days even more.
You can find him on Instagram @rickeylaneii and on Twitter @rickeylaneii.
9. Grant Vandevanter, 27
Other than the fact that I'm absolutely enthralled by his last name, this stud works as an electrician in Alama, CA, but has dreams of becoming an electrical contractor. Don't let your dreams be dreams, boo!
You can find him on Instagram @gvandevanter, where you'll see a handful of glorious images of Vandevanter boxing his heart out.
10. David Ravitz, 25
Ravitz? More like ravishing, amirite?! (I honestly do not know how people tolerate me.) Anyway, David Ravitz currently lives in Denver, CO, and seemingly keeps a low profile about his personal life on social media, since there's not too much to report regarding his bio. Boo.
You can find him on Instagram @dravitz and on Twitter @DavidRavitz, but both are currently set to private.
Honestly though? He's keeping an air of mystery about himself, and I don't hate it.
11. Chris Randone, 29
Randone is a sales trainer that has the smoldering look DOWN, you guys. Also loving that gigantic beverage he's holding in the first photo very, very much.
You can find him on Instagram @c__dome and on Twitter @ChrisRandone.
12. Colton Underwood, 26
Another former football player, folks, and I'm NOT mad about it. He was an NFL tight end for the Oakland Raiders, but you also might know him from his previous relationship with US gymnast Aly Raisman. And spoiler alert: He's dreamy AF.
You can find him on Instagram @colt3five or on Twitter — you guessed it — @Colt3FIVE.
13. Christon Staples, 31
Reeaally hoping that Becca has a thing for athletes. Christon (AKA Chris S.) is a former freaking Harlem Globetrotter and apparently can dunk like nobody's business. I'd tell you more about him, but I'm a little bit busy getting lost in his eyes. Don't ask me if I'm sorry, because I'm not.
You can find him on Instagram @everybody_hatechriss and on Twitter, @mrhoopstar9.
14. Alex Templeman, 31
This guy's got a smile that just won't quit — and I hope it never does, because hot damn. Templeman is a Construction Manager living in Atlanta, GA, who, judging by his Insta, really loves to be outdoors. Can't even blame him for wanting to show off those pearly whites to everyone within a 5-mile radius.
It doesn't look like he has a Twitter account, but you can find him on Instagram @captain_colgate.
15. Garrett Yrigoyen, 29
We've got another mystery man on our hands, friends. Garrett is a Medical Sales Rep residing in Reno, NV, who is apparently a good athlete — and that's about all we know. You can stalk his social media accounts to see his profile photos (he's hella cute), but other than that, you're SOL.
You can follow him on Instagram @garrett_yrigs12 (which is set to private) or you can find him on Twitter @Garrett_Yrigs12 (which is public).
16. Jordan Kimball, 25
If this guy looks like a smokin' hot male model to you, it's because that's exactly what he is. Part of me thinks he's very charming, while the other part is screaming to run far away from someone whose face is like, 100 times more beautiful than my own.
You can find him on Instagram @jordan__kimball and on Twitter @Mr__Right_Now_ (lol).
17. Jason Tartick, 29
There's something kind and gentle about his face that makes me just want to give him a big hug. He looks like someone I could trust with my life, and he's a Senior Corporate Banker, so I'd probably trust him with my money too, TBH.
He doesn't appear to have a Twitter account, but you can follow him on Instagram @jason_tartick.
18. Leo Dottavio, 31
With a mane like his, there's very little reason to wonder why his name is Leo. It's almost as if his parents just knew he'd have long, gorgeous locks. Also, he's a stuntman, so the sex appeal just got bumped up another hundred million points.
You can follow him on Instagram @leofdot or on Twitter @bigdott, which is cute as heck.
19. Connor Obrachta, 25
Well hello, handsome. Obrachta is a (yep, you guessed it) fitness coach living in St. Petersburg, FL. He doesn't have much on his social media other than shirtless photos of himself, so I figured I'd throw a few up here for your enjoyment.
You can find him on Instagram @cjo_fitness and on Twitter @CObrochta33.
20. Wills Reid, 27
Why oh WHY is Wills being coy with his social media? This Graphic Designer looks pretty fine, but you won't see any photos of him on social media, because he DEACTIVATED both his Instagram and Twitter accounts. Insert sobbing emoji here.
If there's hope, he'll re-activate, so keep an eye out for him on Instagram @willsofalltrade or his Twitter @theworldofwills.
21. Mike Renner, 28
Pictured square in the middle of that first image, and pictured holding a pupper on the right in the second, this guy just looks down-to-earth. I'm feeling his vibe, and the fact that he's a Senior Sports Analyst is pretty appealing (though I could not tell you how to analyze any sport, ever).
You can find him on Instagram @dudesthisisthebest or on Twitter @PFF_Mike.
22. Kamil Nicalek, 29
If you're looking for an all-around chiseled beefcake to gawk at, I highly recommend staring at Kamil. He works in social media (sort of vague, but I'll take it) and is also (drumroll please) a model.
You can drool over his jawline on Instagram @kamiloo or on Twitter @KamilNicalek.
23. John Graham, 28
If Becca ever needs someone to tell her what's wrong with her glitchy laptop, John can definitely be that guy. Not only is he a programmer who helped launch your fave life-saving money transfer app, Venmo, but he also has a cooking show called Kitchen Talk. Yup, he's a coding and cooking genius on top of being hot AF. What's not to love?
You can check him out on the 'gram @johngraham262. And if you can bag a follow-back, you can follow him on Twitter @johngraham262.
24. Jean Blanc, 31
Jean Blanc is hella impressive. He immigrated to Boston from Haiti with his parents when he was only two years old. 29 years later, he's got his masters degree in business administration and works as an engineer in Memphis, TN, but he spends his free time making sure he smells as good as he looks, as a self-proclaimed colognoisseur.
You can find him on Instagram @jean__blanc and you can look at this profile image on Twitter @jean__blanc because he has never tweeted.
25. Trent Jespersen, 28
Trent is a part-time realtor, a part-time model, and a full-time animal lover. He's also generally a mystery because we don't know all that much more about him (other than the fact that you might see him on a romance novel cover or two on your next trip to Barnes & Noble.
Trent doesn't appear to have any public social media accounts, which is not going to go down well with his future fans.
26. Joe Amabile, 31
Based on the trajectory of Joe's career, it seems like this guy loves taking chances. He was once one of the youngest traders on the Chicago stock exchange, but he left all that big finance mumbo-jumbo behind to start a small business — aka a grocery store!
This is another suitor who's oddly ghost on social media. Like, is it 2018, or nah?
27. Jake, 29
Jake is an adventure-seeker who's been livin' on the edge riding dirt bikes and racing motocross since the tender age of 13. There's very little known about this contestant (and his socials could not be located), but we DO know that he's got some history with Becca, which will probably (hopefully) lead to plenty of drama on the show.
28. Christian, 28
Born in Mexico, Christian boasts being a natural athlete, having played semi-professional soccer until an injury forced him to retire. Despite his grace on the soccer field, he can be a bit clumsy in his dating life, apparently, since his biggest date fear is spilling something on himself in front of Becca. Which is honestly everyone's biggest first date fear, no?
No socials for this hunk, sadly. So you may just have to stalk him onscreen when The Bachelorette premieres. I know it feels like there's a million years left before the premiere, but it'll be well worth the wait!