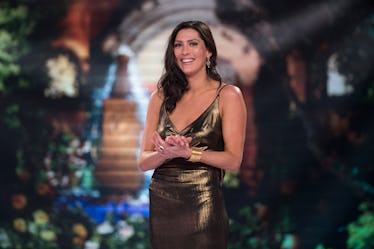 Here's Everything We Know About Becca's 'Bachelorette' Season So Far
ABC/Paul Hebert
Do you hear that? That's the sound of Becca Kufrin being so totally done with Bachelor Arie Luyendyk. Becca is filming her Bachelorette season now, and after about a month of shooting, it seems like the Minnesotan beauty has put the past behind her, once and for all. While ABC is keeping its habit of staying silent during filming, a few secrets have leaked from The Bachelorette set, so fans looking for a quick scoop are in luck. Here's everything we know about how Becca's season of The Bachelorette is going so far.
Filming on Season 14 officially started on March 15, when The Bachelor franchise creator Mike Fleiss tweeted out a few behind-the-scenes images of Becca meeting her group of dudes for the first time. That night, Becca wore a stunning white beaded gown and prepared to make some lasting first impressions after a no-doubt inspiring pep talk from host Chris Harrison. Fleiss also shared a pic of the guys milling around in between takes, and one guy was wearing a... chicken suit? If you thought I was about to say "tuxedo," you'd be very, very wrong. That's one way to make a first impression, I guess. Fleiss tweeted that there was a "very strange entrance and exit" that first night, so I have to assume that the chicken suit guy was somehow involved.
Fleiss has continued to post behind-the-scenes pics and videos from Becca's season of The Bachelorette, so we know that in the weeks since filming began, Becca has been quite the traveler. In late March, Fleiss posted pics of Becca enjoying the last few moments of winter in Park City, Utah, where she did some shopping and took a ride on a snowmobile. Most importantly, Becca spent some time on a one-on-one date with Garrett, who reportedly won the first impression rose.
Becca also wore a gorgeous mermaid-style gown to the elimination ceremony. If you're going to send a guy home, you've gotta do it in style, right?
Just a few days later, Becca and her men headed to sunny Las Vegas, Nevada, where fans of the show had the opportunity to hang with Becca on a group date.
After hitting up Vegas, The Bachelorette shoot made a quick stop in Richmond, Virginia before finally moving production off U.S. soil for the first time this season. Becca traveled to the Bahamas on April 12, and People reports she stayed in a luxury resort complex, Baha Mar, in Nassau. Becca looks pretty relaxed in the many beachy pics that were taken by paparazzi — she's drinking and seems to be having a grand ol' time. From the looks of one fan account, some of her guys are having a pretty good time, too: Becca is making out with someone in multiple pictures, although its hard to tell if they're the same guy or not.
But even amid the good vibes of the Bahamas, someone has to go home, and that dude was probably pretty upset after he saw Becca's rose ceremony outfit. This pink, flowy dress is such serious statement piece that I'm desperate to know where she got it, and I don't even love pink that much.
This trip to the Bahamas seems awesome — and Becca is certainly, uh, clicking with plenty of the guys — but don't assume too much from this one trip: there are still a couple of weeks left in production, and anything can happen. Plus, if Becca's season of The Bachelorette mirrors Arie's season of The Bachelor, plenty of stuff can happen after filming wraps, too. Hopefully, Fleiss will keep giving fans a sneak peek at the drama so we'll have plenty to speculate about before Becca's season premieres in late May.
Season 14 of The Bachelorette premieres Monday, May 28 at 8 p.m. ET on ABC.