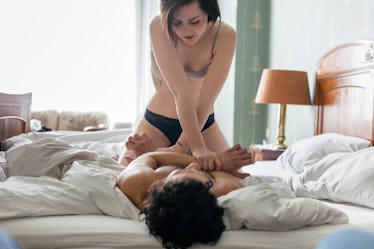 Here's How To Explore Your Favorite Sexual Fantasy, According To Sexperts
Whether you have your Oscar acceptance speech outlined or have the wallpaper chosen for the bathroom of your dream house, there's probably something you daydream about when you're sitting on the subway and don't have any cell service. Although it may not be easy to admit, many people have a hidden fantasy. Whether you're in a relationship or not, it's incredibly common to explore your own sexual fantasies, and to struggle to know how to put them into action. No matter what you're imagining, these four ways to explore your favorite sexual fantasy can help to make your dreams a reality, in a consensual and healthy way!
"Fantasy play is definitely not necessary for healthy sexuality! However, fantasy play and/or role-play can provide opportunities for couples to explore more variety and be adventurous within a monogamous relationship," Dr. Misty Smith, PhD, LPC-S Certified Sex Therapist, tells Elite Daily. Fantasy can be a great way to get out of your comfort zone and turn the heat up. It can also be a way to shed your inhibitions and cultivate some major body-positive #selflove.
Dr. Smith shares four ways to embrace the fantasy in your sex life, so you get to make your own rules.