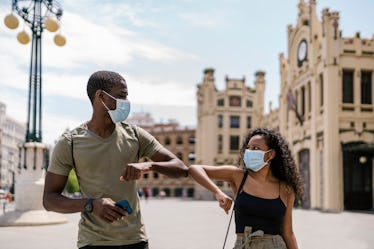 Dating During COVID Can Be Nerve-Racking. Here's What To Discuss Before Meeting
Westend61/Westend61/Getty Images
The idea of finally seeing your dating app match in the flesh can be both exhilarating and terrifying in 2020. Chances are, those FaceTime dates have gone really well, and you'd like to meet IRL. But along with standard dating concerns, like whether your digital chemistry will translate offline, it's important to think about how to hang with your quarantine crush without catching or spreading COVID-19. If you've been agonizing over how to talk to dates about coronavirus safety, know that your concerns are 100% valid.
The thought of spending face time (not FaceTime) with someone new during a global pandemic can be stressful. The best way to handle the situation is to have an honest, straightforward conversation about your health, the precautions you're both taking, and what your life looks like these days. But when you're getting to know someone new, interrupting their Netflix recs or your hot takes on Instagram Reels to ask personal questions about symptoms, masks, and social distancing can feel, well... awkward. Nevertheless, it's the responsible thing to do.
Below, doctors and dating experts weigh in on how to navigate safety and communicate your needs to your crush without ruining the vibe.