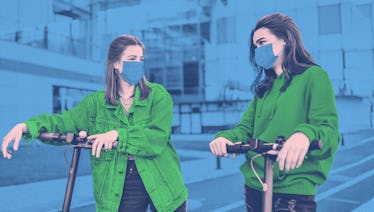 30 Pandemic-Safe First Date Ideas That Help You Find Love In A Hopeless Place
Elite Daily
Leave it to a global pandemic to make you wistfully long for dates consisting of overpriced cocktails at a noisy bar before awkwardly making out on a street corner and getting ghosted. Sigh. While your go-to date activities from the Before Times probably don't fly anymore, there are plenty of pandemic-safe first date ideas that can actually make these bleak times more fun and — dare I say it? — romantic.
Elite Daily's Dating Editors spoke to dozens of singles across the country about how they're meeting up with new people these days, and it was inspiring. Despite worries that the pandemic would make dating feel downright impossible, folks are finding creative ways for sparks to fly safely. From beach picnics to outdoor paint-and-sip dates to hiking trips, there's enough variety here that you might never want to go back to boring old bar dates.
Specific safety measures might vary depending on where you live, but wherever you are, wear a mask. Keep a safe distance — according to the Centers for Disease Control and Prevention (CDC), the coronavirus can be spread between people who are within close contact of each other (about 6 feet), including people who may not be showing symptoms. Follow the safety precautions mandated and recommended by your local and state governments. The last thing you'd want is your romantic outing concluding with you or your date getting sick.
Use these 30 ideas below as inspiration for the next time you take the leap from a FaceTime date to an IRL date.