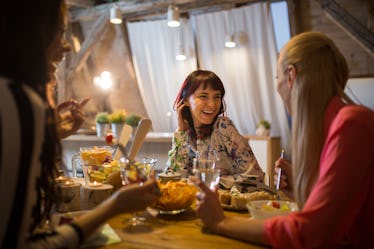 Here's How To Celebrate Friendsgiving This Year, Based On Your Zodiac Sign
Raise your hand if you're super pumped for Friendsgiving this year. I know I am. You never really know what festivities await you — because every friend group celebrates so differently — and that's half the fun. Plus, if your squad is anything like mine, then that means they're always trying to one-up the celebrations as each year passes. If you ask me, astrology always makes things more interesting, so why not figure out how to celebrate Friendsgiving based on your zodiac sign? Hey, it can't be worse than that time you tried to replicate Rachel's failed Thanksgiving trifle from Friends, right?
Each sign in the zodiac has their own unique characteristics, which also means each sign has their own way of celebrating and partying, especially when it comes to a holiday event like Friendsgiving. So, if you're brainstorming ideas for your own get-together this year, why not turn to your star sign to show you exactly how you should gather your besties and feast your hearts out this holiday season?
Aries: You Want A Real Party
Confident and dynamic Aries is the type to stride into the room with a vibrant basket of goodies in hand, filled with all kinds of delicious treats. Chocolate turkeys, anyone? "It'll be fun!" said every Aries ever.
Taurus: It's All About The Board Games
When it's time for you and your squad to wind down post-feast, you'll definitely be down for a rousing and entertaining game of Cards Against Humanity, or even something more old school, like Clue. There's nothing like a group board game, amirite?
Gemini: You'll Def Have A Charlie Brown Thanksgiving On In The Background
If you're a Gemini, you're fun, quirky, and the tiniest bit nerdy — in the best way possible. I bet A Charlie Brown Thanksgiving will be the center of your Friendsgiving celebration this year, and every year. What a freaking classic.
Cancer: You've Got The DIY Aspect Covered
Cancers — aka the "moms" of the friend group — are, as always, obsessed with anything DIY. They're the ones who will be making all the Friendsgiving crafts and decor to make sure everyone feels the Thanksgiving spirit.
Leo: You'd Prefer A Brunch Experience Over Dinner
When it comes to vivacious and attention-seeking Leo, they would probably prefer to turn Friendsgiving into Brunchgiving. It lends itself more to everyone being in one spot and not cooking in the kitchen while others chill in the living room. Plus, it's also better for potentially gossiping over mimosas.
Virgo: You're All For Celebrating The Traditional Way
Routine-loving Virgo is sticking to traditions for Friendsgiving this year (same as all the previous years). Turkey, stuffing, gravy, and candied yams will be abundant at this celebration, and the guests won't be able to get enough.
Libra: You're Happy To Celebrate Any Way Your Friends Want
You're not much for planning and prefer to sit back and relax, so you'll go with the flow. As long as all your besties are together, that's what truly matters.
Scorpio: You'll Create Signature Cocktails For The Gang
Your passionate, magnetic energy will inspire you to create some awesome cocktails for your group. Who knows? It might even lead to the touch of drama you crave.
Sagittarius: You're Thinking Of Ways To Help Others
Your heart is always in the right place. As an optimistic and joyful Sagittarius, you'll probably suggest your group wraps up all of the leftovers and makes the journey to a local homeless shelter.
Capricorn: You'll Want To Get Active
Did someone say flag football? I'm guessing it's you, because you're always trying to make everyone get off the couch for some sort of activity.
Aquarius: You'll Throw Tradition Out The Window
A unique and inventive Aquarius chuckles at tradition, even on Thanksgiving, and will likely be looking to branch out from the usual mashed potatoes and stuffing. If you're bringing something to the feast, it's going to be something unexpected, like homemade pizza or fried chicken. The sky's the limit.
Pisces: You Want To Know What Everyone's Grateful For
Hope no one thinks they can leave the Friendsgiving table without saying what they're grateful for this year, because you'll corner them at the door. You're compassionate and warm, and honestly, you just want to spread all the love.
This article was originally published on