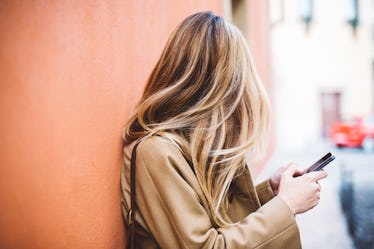 Here's How To Cancel A Date Via Text, Based On Your Scenario
Falling in love is hard, and finding someone who you really connect with is even harder. You may have already experienced a very awkward first date, where you're already thinking about how to dodge the second one. Or, you had a friend set you up and it really just did not work out. But, that doesn't mean you should sign off on dating forever. You're out there looking for Prince Charming, and going on all kinds of dates, which is totally normal. Odds are, you'll have to cancel a few just because life happens, and in those moments, it's good to know how to cancel a date over text. You'll have to kiss a lot of frogs before finding "the one," but it doesn't have to be as painful as you may believe.
Truth is, if you're feeling bad about canceling a date, you're not alone. As much as it's truly the worst to be rejected, it also is so uncomfortable to be the one doing the rejecting. You don't want to hurt the other person's feelings, although it sort of feels like you're swiping left in real life. And if there's a real reason as to why you have to take a rain check, you want them to know that, too. In that scenario, you're still really interested, and really don't want to ruffle any feathers. So, that's where you need some texting tips.
Elite Daily reached out to Anita Chlipala, licensed marriage and family therapist and author of First Comes Us: The Busy Couple's Guide to Lasting Love, for her advice on how to cancel a date over text. The situation could be as simple as not liking their personality, or wanting something else. Here's what she says you should do.