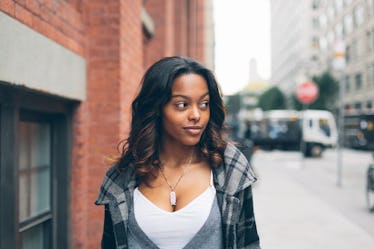 Here's How To Be More Mindful In 2019 So You Don't Feel Scatterbrained AF All The Time
As 2018 comes to a close, you might be feeling your motivation draining a little in more ways than one — I know I have. The end of the year is always a busy time, and personally, the holidays have kept me so preoccupied that I've been neglecting my mindfulness practice for a while, and I've definitely been feeling the repercussions. If you feel like you're kind of in the same boat, don't worry: Figuring out how to be more mindful in 2019 isn't as hard as you think, so get ready to leave those scatterbrained feels behind in 2018 where they belong.
At its core, mindfulness is about being fully aware and grounded in the present moment without judging any fleeting thoughts or feelings you might have, Lisa Sussman, LMHC, clinical director at The Palm Beach Institute, a Delphi Behavioral Health Group, told Elite Daily back in July. TBH, though, the definition of mindfulness alone might be enough to leave you feeling overwhelmed.
But mindfulness doesn't have to feel like a chore. In practice, finding ways to be more in-tune with your own needs can be tremendously simple, and once you get into the groove of it, you'd be surprised by how easily things can fall into place. Here are seven ways to bring a little mindfulness into all that you do in 2019.