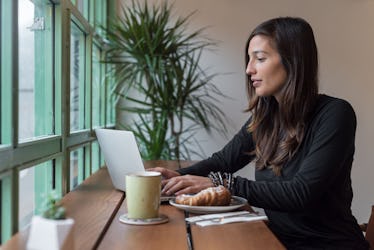 Here's How To Make Those Free Snacks You Get At Work Just A Little Healthier
If you work in an office setting, then you're probably well aware of the fact that being confined to those four walls has its fair share of pros and cons: On the upside, there are always free snacks; on the downside, the aforementioned free snacks aren't exactly what you would call "nutritious." Unfortunately, you can't always rely on your office to provide healthy work snacks, because the truth is, whoever's supplying the goods is probably thinking more in terms of taste and convenience than they are about nutritional value. But, I mean, can you blame them?
See, the problem isn't that companies are supplying food for their employees, or that PR reps are sending provisions to show their appreciation — this is all wonderful, and I'm sure no one's complaining. And while I can totally relate to the fact that these snacks are likely your saving grace come 3 p.m. when you need to curb a sugar craving, in the long run, most of these free treats are actually costing you more than you realize, at least as far as your nutrition goes.
In fact, according to new research from the Division of Nutrition, Physical Activity, and Obesity at the Centers for Disease Control and Prevention, the snacks in your office's communal kitchen aren't exactly up to par per the Dietary Guidelines for Americans. In other words, The Boston Globe reports, the treats provided for you at work are just that: treats loaded with sodium and refined grains. That doesn't exactly sound like brain food, does it?
I don't mean to sound ungrateful or preachy, BTW. Free food is never a bad thing. It's just that, I know myself, and if there's a tray of artisan donuts on the conference room table, the temptation is too real for me to ditch the juicy apple and crunchy peanut butter sitting pretty at my desk, and bite into that frosted, doughy goodness, instead. If this scenario sounds all too familiar, then hear me out for a second: You don't have to avoid all those snacks entirely, nor do you even have to deny yourself the indulgence. It's all about practicing a little moderation and channeling a lot of creativity so you can enjoy all the free eats at work, but still be (kinda) healthy in the process.
In case you need some inspiration, here are a few easy tricks to help you turn those delicious office snacks into nutritious office snacks.