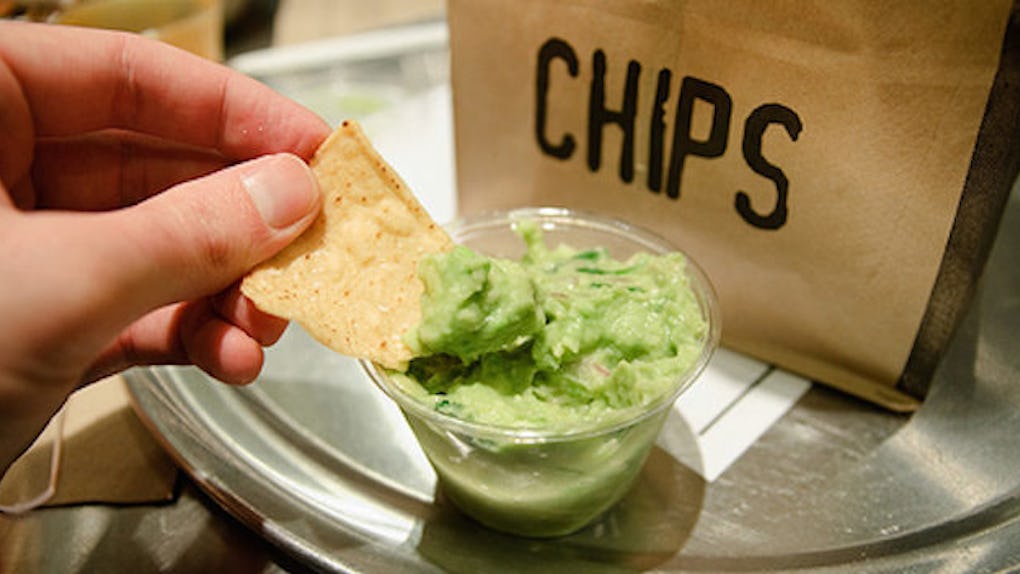 We Heart It
OMFG: Chipotle Blessed The World By Releasing Its Guacamole Recipe
As a die-hard burrito fan, it's safe to say discovering Chipotle literally changed my life.
However, most Chipotle addicts will agree nothing rains on your fiesta faster than seeing that extra charge for a little side of guac added to your total.
But forking over that forsaken $1.80 may now be a thing of the past. You can make your own mouthwatering Chipotle guacamole right at home.
Yep, that's right. Over the weekend, Chipotle finally dished out its delicious secrets and posted the coveted guac recipe on its website (free of charge, surprisingly).
You'll be glad to know it's also pretty easy to make. All you need is two avocados, two teaspoons of lime juice, two tablespoons of cilantro, 1/4 cup of red onion, 1/2 jalapeño and 1/4 teaspoon of salt.
Then, all you have to do is follow the directions graciously provided on Chipotle's website,
HOW TO DO IT: 1. Choose the right avocado. It should feel squishy yet firm (like the palm of your hand), and be a nice dark green color on the inside. 2. Cut the avocado in half and the remove the pit (carefully!) 3. Scoop the avocados and place in a medium bowl. 4. Toss and coat with lime juice. 5. Add the salt and using a fork or potato masher, mash until a smooth consistency is achieved. 6. Fold in the remaining ingredients and mix well. 7. Taste the guacamole (over and over) and adjust seasoning if necessary.
With this awesome recipe, you'll never have to pay extra for your beloved guacamole ever again.
Citations: This Is Chipotleu2019s Actual Guacamole Recipe (TIME)