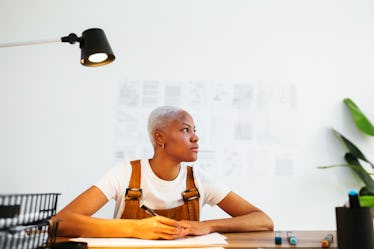 Here's How Sitting All Day Affects Your Brain, Not Just Your Body, According To Experts
This isn't breaking news, but people sit a lot these days — like, a lot a lot. Whether you sit at a desk between 9 a.m. and 5 p.m. on the reg, or you can usually be found on the couch studying for your next midterm, being an adult in the modern world means being sedentary more often than not. You're probably already aware that your body doesn't exactly love sitting all day, but you might not know as much about how sitting all day affects your brain. Spoiler: it's not great. But seriously, don't panic. The first step to fixing any problem in life is to gain a better understanding of the problem, so let's talk a little bit about how parking your butt in a chair actually affects you.
For one thing, according to the American Cancer Society, there's a strong link between "long periods of leisure time sitting and a higher risk of death from all causes," including cancer, heart disease, stroke, diabetes, digestive diseases, and more. "[Sitting is] something that we all do whether we are sitting and watching TV, resting, reading or working at our computer — and it's important to know what health risks could be associated with sitting for that long in the day," Dr. Neha Pagidipati, a cardiologist at Duke University, told NBC News.
If you're already feeling a little freaked out, take a deep breath and remind yourself that, just because sitting is kind of an unavoidable part of your everyday routine, that doesn't mean you have zero control over how it affects you. As a 2014 blog post from Harvard Health explains, you can add more standing time to your days in really simple ways, like walking/pacing around whenever you take a phone call (honestly, who doesn't already do this?), using commercial breaks during your favorite TV shows as workout or stretch breaks, and taking the long way to places you visit regularly, like the office or the grocery store.
And if you need some extra motivation to remind you why it's important to get up from your chair every once in awhile, here are a few ways sitting can affect your brain.