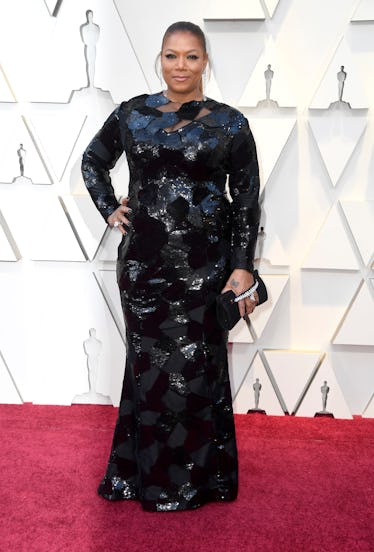 Queen Latifah Says These 5 Things Help Her Stay Balanced, No Matter How Hectic Life Gets — EXCLUSIVE
Frazer Harrison/Getty Images Entertainment/Getty Images
Never in my whole career have I been so stressed prior to an interview than when I step into the Eventi Hotel in New York on a windy Tuesday afternoon. It's an hour before I'm scheduled to meet Queen Latifah, and I'm fiddling with my GPS when, all of a sudden, my phone goes black from a freakish malfunction. My battery slips from 70 percent charged, to a mere 10 percent in seconds, and the only recording device I have is my phone. Luckily, I'm sitting down with the actress to get the scoop on how Queen Latifah stays balanced when life gets overwhelmingly hectic — a subject matter I clearly need a few pointers on as my heart pounds against the walls of my chest.
As an award-winning actress, producer, rapper, and songwriter, Queen Latifah knows chaos. "All kinds of things can stress you out: business, money, relationship things, work, things going on at work, or how much work you have to do," she tells me in an exclusive interview for Elite Daily. As Queen Latifah sits across from me, I can't help but notice how cool, calm, and collected she looks. Meanwhile, my palms are shaking, and my eyes keep darting from hers to my questionable phone battery. How I'm able to keep my voice composed, I'll never know.
"Worry about today, and that will be enough," she adds, speaking like the true Queen she is.
Queen Latifah recently teamed up with Cigna for the global health service company's latest campaign, which encourages everyone to take control of their physical and emotional health by looking at the body, mind, and spirit as a whole. "The idea of doing a campaign based on promoting health — body and mind, body and emotionally — is important, and I've always been for that," Queen Latifah says of how her partnership with Cigna came to be. "It's better if [your doctors] get the whole picture, and that starts with you communicating with your doctor and really having those annual check-ups."
Going to the doctor when you're feeling physically under the weather is important, but through this Cigna initiative, Queen Latifah, Nick Jonas, and Ted Danson are sharing the message that scheduling a visit when you're feeling emotionally unwell can be just as beneficial. "[People will] go to the doctor, go through the motions, and not say a word about how they've been feeling emotionally," Queen Latifah explains. "But it's all linked together, and doctors are trained to catch things based on how you're feeling."
As important as it is to have resources, like a doctor, to turn to when you're feeling stressed, it can also be beneficial to know what sorts of activities and rituals help you cope through the chaos. For reference, here's how the Queen handles things when life gets hectic.