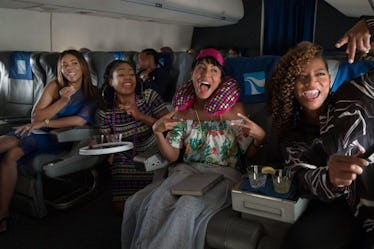 Queen Latifah Has A Plan To Make More Movies Like 'Girls Trip' Happen & I'm So Here For It
Universal Pictures
Queen Latifah has earned a lot of enviable labels during her long and illustrious career. Grammy winner, Oscar-nominated actress, proud recipient of Golden Globe and Emmy awards. But there's one label that should come before all else: pioneer. She's broken down barriers for African-American women in the music and film industries. For every no she's heard from an executive in a boardroom, she's made the world cheer her on with a resounding yes. More importantly, she's never stopped being true to her belief and vision that women of all shades and backgrounds have the power to change the way they see themselves. And now, Queen Latifah is using her power and influence to amplify the voices of other women through a new initiative called The Queen Collective. And if I learned anything from speaking to her about the exciting initiative, it's that this is a game changer.
So, what is The Queen Collective? At its core, The Queen Collective's aim is to curate, mentor, and uplift diverse female filmmakers in order to bridge the gender and racial gaps behind the camera. Its mission is all about equity, inclusion, and truthful storytelling. At the helm is Queen Latifah herself, in partnership with companies like Procter & Gamble, HP, Smirnoff, United Talent Agency Marketing, and Tribeca Studios.
The inspiration for this venture, Queen Latifah tells me, is a need for Hollywood to be more inclusive in its storytelling and a desire to do more for emerging voices.
Queen Latifah knows better than anyone that when women of color are given the spotlight they deserve in films, magic can happen. I mean, look at the success of Girls Trip, which Queen Latifah starred in alongside icons like Jada Pinkett Smith, Regina Hall, and the then up-and-coming comedian, Tiffany Haddish. The movie made history as the first film written, produced, directed and starring black people to cross $100 million at the box office.
"We need good films, and Girls Trip was just that," Queen Latifah says about why The Queen Collective is such an important initiative. "And what you see is Girls Trip was a film that starred four African-American women, but it wasn't a black movie. It was for everyone and the numbers didn't lie. That was a film that everyone came out to see. It was funny. Even guys came to see that."
So, how does Queen Latifah intend on helping so that more amazing movies like Girls Trip can make their way onto our screens?
"There is quite a bit of inequity in Hollywood, and we wanted to do our part to begin to change that," she explains. "We partnered up with Procter & Gamble... Every time I've come to them with a project that had anything to do with empowering females they've always been 100 percent behind me."
That unwavering support was more than enough for the Girls Trip star to jump head-first into The Queen Collective.
There is quite a bit of inequity in Hollywood, and we wanted to do our part to begin to change that.
The project will kick off with Queen Latifah personally guiding two fresh-faced directors with inspiring stories to tell through the filmmaking process.
"I'll mentor them throughout the process to make sure they're supported and that they have whatever they need," she explains. "And any questions that they have, and whatever they'd like to do to kind of move this whole process forward."
Queen Latifah, Procter & Gamble, and the rest of their partners will work to ensure these new directors are involved and supported every step of the way.
"We're going to partner up with Tribeca to make sure we can tap into their network of aspiring filmmakers and get the best and the brightest to have an opportunity to make their film," Queen Latifah says of the process.
As involved a project as this may seem, Queen Latifah assures me that it's really a very simple mission.
"But really, what it is, is just seeing a story told from a woman's point of view, without any hindrance. From A to Z, their idea, told their way," she says. "All we're there to do is support them and make sure that it makes it to the public eye."
While Hollywood has a long history of relegating "women's films" to the sidelines (especially those produced by and starring women of color), Queen Latifah sees value in looking toward a future where Hollywood invests in good films. And good films are films by and about women, like Girls Trip.
If there's one thing Queen Latifah is sure of, it's that women-centric films like Girls Trip deserve much more attention than Hollywood affords them.
"It's odd how sometimes people think these are a novelty," she says. "These are not a novelty, so they shouldn't be treated as such. It would be a shame for there not to be a Girls Trip 2. The film was hugely successful, which should be a sequel."
Well, looks like Queen Latifah's on board for the Girls Trip sequel. Make it happen, Hollywood!