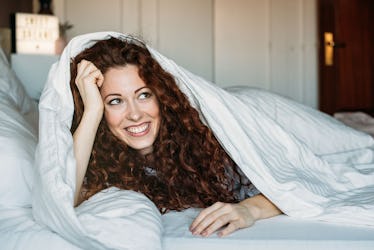 You Can Practice These Bedtime Wellness Rituals Under The Covers, So Get Comfy
Just in case you've been living under a rock, or don't have the dire need to scroll through social media every five seconds (and, if that is the case, please teach me self-restraint), wellness routines — especially bedtime routines — are all the rage right now. But, if you ask me, too many of them require you to have a lot of free time in your schedule. Maybe I'm just lazy, but I'd much rather perform bedtime rituals for better sleep from under the covers because, really, who has the time and/or energy for an 11-step skincare routine, a 10-minute meditation, and a 20-minute journaling sesh, all while sipping on a mug full of warm golden milk, before snapping a selfie for the 'gram, and drifting off to sleep? Certainly not me.
Seriously though, why turn up when you can turn down — your covers, I mean — because what's more relaxing than spending some much needed R&R time snuggled under your favorite comforter? Don't get me wrong, I'm a firm believer that creating a soothing ambiance in the bedroom is everything, not to mention necessary for optimal sleep quality. However, bouncing around from the bedroom to the bathroom, and checking all these seemingly "relaxing" tasks off the list sounds more like a project than anything else.
Of course, if you genuinely enjoy going through the motions of one wellness ritual after another, do you, friend. But for those of you who can't be bothered with all of that, I'm here to tell you that you can easily practice some calming bedtime rituals from the comfort of your own, well, comforter. Here's how to do it, according to experts.