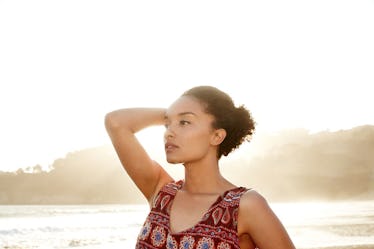 Experts Say Your Body Responds To Mindfulness In These 6 Fascinating Ways
How many times has it been suggested that you start a mindfulness practice? For me, I'd say I'm cresting a million times, but that doesn't mean I've actually dipped my feet into the practice just yet. Maybe you're sick of hearing about it yourself, but when you really think about how mindfulness can affect your body, it's pretty incredible. So even if you consider yourself to be a bit of a skeptic about these things, hear me out, because experts say the practice does live up to the hype.
When people talk about mindfulness, the focus is usually on things like quieting your mind, relieving stress, and turning negative thoughts into positive ones. And yes, mindfulness can help you achieve those things, but according to spiritual teacher and meditation guide, Biet Simkin, the practice is also a way to recognize what she calls "the ultimate truth." She tells Elite Daily in an email, "[Mindfulness] makes you remember who you are and what your purpose is on this planet." In other words, practicing mindfulness is essentially a way to practice being your most natural, authentic self, without any distractions or influences from the outside world. It helps you get in touch with who you really are.
If the skeptic in you has suddenly grown to be a bit more curious, here are a few other fascinating ways mindfulness affects your body.