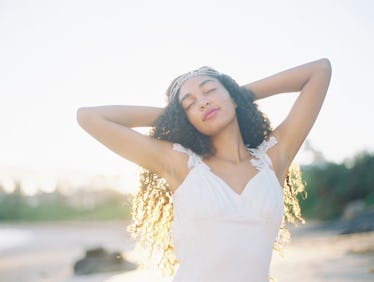 You Can't Always See These 4 Benefits Of Meditation, But Experts Say They're Real
Sometimes, even if you know something is good for you, it can be hard to actually make yourself do it. Meditation is definitely one of those things, you know? The idea of taking some time each day to just sit and breathe, when things are always so busy and all over the place, can seem impossible. But many of the benefits of meditation are hidden, in a sense, in that you can't really see them. You feel them, and you notice their development over time.
But it's all too easy to put something like meditation on the back-burner when the results of practicing it aren't quite as tangible or visible as, say, a consistent exercise routine, or a resolution to keep your room clean. That doesn't mean it isn't worth the effort, though, right?
While some of the benefits of meditation are talked about all the time, like feeling more centered and calm, there are more positive side effects of a consistent practice that you may not be familiar with. But, if you really want to experience those benefits, you have to be committed to meditation as a regular part of your routine, rather than as something you do, you know, whenever you remember to do it.
If you manage to stick with the practice, experts say you'll soon start to notice these five lesser-known benefits in your well-being.