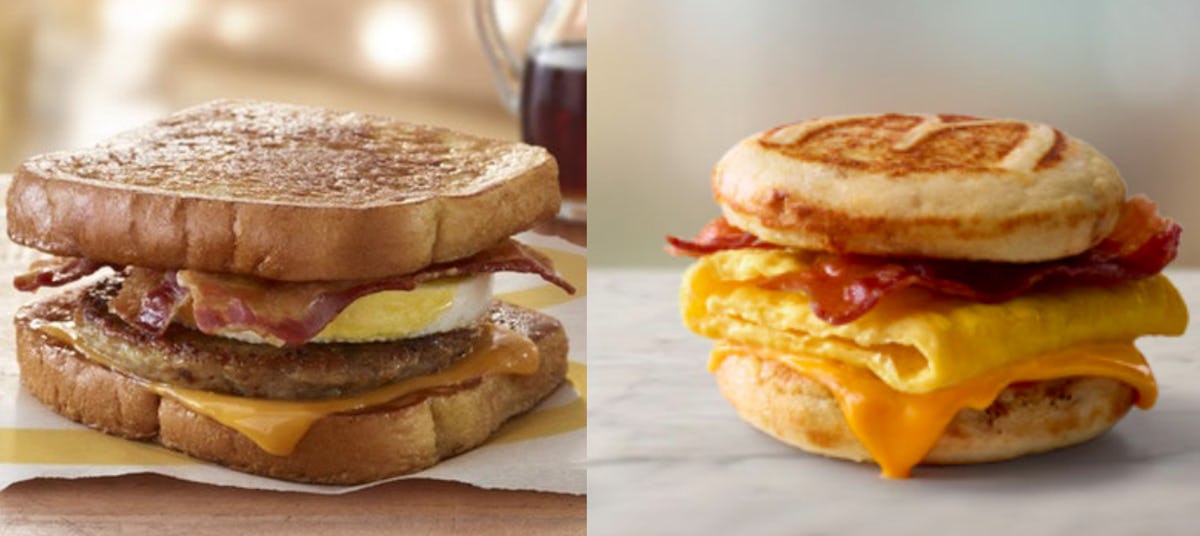 This Is The Delicious Difference Between The New McGriddle & The OG Sandwich
You and I are both well-aware that keeping up with the news can be uh, well, pretty bleak. Seriously, don't even get me started on this. However, if you manage to keep up with McDonald's news at all, you're probably feeling pretty good right about now. The beloved fast food chain recently came out with a hot new breakfast item, and it's an undeniably sexy twist on an old favorite. TBH, it might even be the key to eternal happiness. So, if you happen to be particularly curious about the tasty new sandwich, here's how McDonald's' French Toast McGriddle compares to the original version.
If you haven't already made your way up to Minnesota to try McDonald's newest test item, the French Toast McGriddle Breakfast Sandwich, you're definitely missing out. Like the classic McGriddle that many breakfast connoisseurs have come to know and love. It piles an egg, melty American cheese, hot sausage, thick Applewood smoked bacon, and, of course, sweet maple syrup onto a steamy breakfast sandwich, according to the press release. However, the bread isn't made up of two M-stamped pancakes, like the OG version. Instead of pancakes, the bread is made of warm brioche French toast buns, and honestly, it sounds like everything I could ever want.
Seriously, do you see what I'm seeing? That's straight-up food porn right there.
Don't get me wrong — I'm still head-over-heels crazy about the original, fluffy, pancake-y McGriddle. I mean, how could I not be totally and utterly in love? It's been a key player in my life for years. You can currently order the original pancake sandwich as sausage-and-egg, bacon-and-egg, or plain sausage, per the McDonald's website. Seriously, the McGriddle is a morning-time MVP: It's been there for all the rushed mornings en route to work. It's been there for the occasional hangover. It's even just been there for the lazy days when I don't feel like cooking breakfast.
The new French Toast McGriddle, however, is so darn tantalizing, and it definitely switches things up in the best way possible. Minnesota, I'm coming for you, and I'm only going for that good old Mickey D's.
If you're not 100 percent convinced that this new breakfast item is literally perfect in every single way, McDonald's Chef, Mike Lingo said in a press release that the flavors within the sandwich blend seamlessly with the cinnamon, spice, and vanilla from the French toast, and if that doesn't make you even the tiniest bit curious, I seriously don't know what will.
In the release, Lingo said:
You get savory and smoky flavors from the sausage and bacon. Creaminess, cheddar flavors and salt from the American cheese; sweet cinnamon, spice and vanilla flavors from the French toast. It tastes like homemade French toast. It's everything you love about breakfast in one sandwich.
Wow, OK. If that description of the new McGriddle alone hasn't already convinced you to try it out, then I really don't know what will. Mickey D's has truly outdone themselves this time, and hopefully the test runs will go swimmingly. I really, really don't want to trek to Minnesota every single time I want one of these babies, so my fingers and toes are crossed.