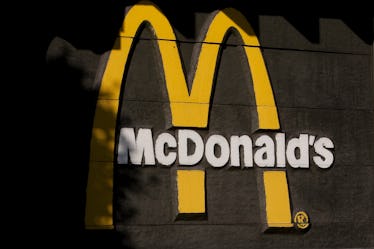 McDonald's Is Testing Out A New McGriddle Sandwich, So Let's Eat
David Paul Morris/Getty Images News/Getty Images
Move over, pancake lovers. McDonald's is testing out a new version of the holy McGriddle Breakfast Sandwich, and it doesn't include its namesake griddle cakes. (Say what?) McDonald's is switching up its signature McGriddle sandwich by swapping out pancakes for thick slices of sweet french toast. While you wipe up your drool, I've got some less than stellar news to share. Sadly, the delectable new breakfast item isn't available everywhere. Where are McDonald's French Toast McGriddle Breakfast Sandwiches available? Only in one state.
Round up your friends for a road trip, because McDonald's French Toast McGriddle Breakfast Sandwich is not to be missed. That is unless you live in Minnesota. The North Star State is the only place in the United States where you can sink your teeth into a McGriddle made of French toast, at least for now. McDonald's is testing the French Toast McGriddle Breakfast Sandwich at more than 200 participating store locations throughout Minnesota, according to the fast-food chain.
"You get savory and smoky flavors from the sausage and bacon," McDonald's Chef Mike Lingo said in a press release. "Creaminess, cheddar flavors and salt from the American cheese; sweet cinnamon, spice and vanilla flavors from the French toast. It tastes like homemade French toast. It's everything you love about breakfast in one sandwich."
Minnesotans seem to be responding positively to the limited time menu item. How could they not? In all of its glory, a McDonald's Bacon, Egg, and Cheese McGriddle Breakfast Sandwich is one of the tastiest on-the-go breakfasts you can buy. It strikes the perfect balance between savory and sweet, and I can only imagine that the French Toast McGriddle is no different. The French Toast McGriddle also comes with bacon and sausage and is topped with sweet syrup. It's a real morning game changer.
Additionally, there are no artificial preservatives, flavors, or colors from artificial sources in McGriddle cakes, according to McDonald's. Of course, it is still fast-food breakfast but at least you can feel good about what you're eating.
I haven't tried it yet, but I already know that I would definitely eat this. To borrow from my favorite television chef Guy Fieri, the French Toast McGriddle looks a downright "righteous" breakfast sandwich.
The first McDonald's McGriddle made its debut in 2003, according to McDonald's. Suffice to say, it is high time for an update to the customer-favorite and bonafide breakfast classic sandwich at the Golden Arches restaurant. All of this talk about breakfast food has me wondering, "Where can I sign up to become a McGriddle taste tester?"
The French Toast McGriddle is official enough to have its own branded wrapper. Could this be a sign of things to come? A girl can dream. McDonald's has not indicated whether or not it will bring the French Toast McGriddle Breakfast Sandwich to menus nationwide. If you live in Minnesota or anywhere in the upper midwest part of the United States, lucky you. If not, you may want to pack your bags for a quick trip to the Gopher state. With so much uncertainty surrounding the French Toast McGriddle, how could you risk missing this one-of-a-kind creation?