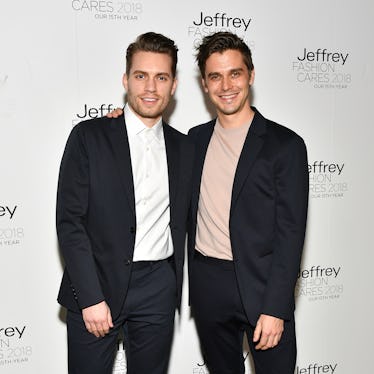 Here's Everything Antoni Porowski & Joey Krietemeyer Have Said About Their Love
Dia Dipasupil/Getty Images Entertainment/Getty Images
Ever since the new Queer Eye premiered, there's been a brewing conspiracy theory: Can food and wine expert Antoni actually cook? Are his recipes for each episode simple because he's working with folks who are inexperienced in the kitchen, or is there something more nefarious happening? Personally, I believe the former. Sure, he's adorable but he can cook, too. And regardless of where you come down on this, there is one recipe that Antoni has mastered, and that's the recipe for a goals-worthy romance. Don't believe me? Just take a look at everything Antoni Porowski and Joey Krietemeyer have said about each other, because these long-time partners have love on lock.
Like most of the cast of Queer Eye, Porowski is not hiding his relationship from the public (and why should he?), but he isn't spilling all the details either. So here's what we do know about his boyfriend of seven years — to whom Porowski says he's "practically married" to.
While Krietemeyer may have model-worthy good looks, he is actually more of the artistic type. According to his LinkedIn, Krietemeyer graduated from Drexel University with a Bachelor's degree in graphic design. This led to his current gig as the director of creative services at 1stdibs — AKA that incredible luxury vintage marketplace I can't afford. Krietemeyer is also proud to be Porowski's number one fan and happily gushes over his success — and the feeling is clearly mutual. Just take a look at all the things they've said about and to one another.