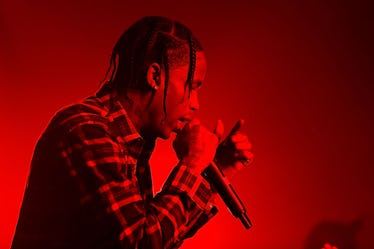 A Brief History Of Everyone Travis Scott Has Dated, Because The Rapper Has A Juicy Past
Randy Shropshire/Getty Images Entertainment/Getty Images
Over the past two years, I'm sure you've heard the name Travis Scott left and right. Apart from welcoming his adorable baby girl Stormi with Kylie Jenner in February (and flooding our social feeds with the cutest pictures of that sweet, sweet little munchkin), Scott also just released his (amazing!) new album, AstroWorld. So naturally, because of all the buzz around the rapper these days, I want to know everything about him, starting with everyone Travis Scott has ever dated. TBH, he has truly impeccable taste.
Scott made a name for himself before he became Jenner's boyfriend. He had several popular songs that you've probably heard at least once, like "Antidote," "Pick Up The Phone," "Goosebumps," and "Butterfly Effect." Aside from his music, you may have heard his name in connection to a couple of big-name celebrities, but more on that later. He's been connected to models, actresses, singers, music video costars, and of course, a reality TV star. So, if you're as curious as I was to find out who lingers in Scott's past, read on.
Elite Daily reached out to Scott's team for comment on the unconfirmed relationships but did not hear back by the time of publication.