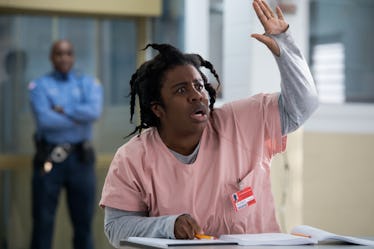 Here's What We Know About 'OITNB' Season 7 To Help Fill Your Void After Binging Season 6
Netflix/JoJo Whilden
Orange Is the New Black Season 6 was released July 27 on Netflix, but if you're a fan of the series you've either already finished it, are in the middle of a massive binge sesh, or you plan on devouring the whole thing over the weekend. I get it. Patience when it comes to TV shows is not really a thing. Now that the dramedy's latest installment unveiled new characters, unlocked doors to intriguing storylines, and ended with a few nail-biting cliffhangers, audiences are bound to wonder: When does Orange Is the New Black Season 7 premiere? There's no official word on a date, but hopefully fans can expect to go back to Litchfield next summer. Warning: This post contains spoilers for Orange Is The New Black Season 6.
Here's the good and definitive news: Orange Is the New Black is getting a seventh season. The award-winning show was already renewed for Season 7, so don't worry about its fate. The unfortunate catch is that the seventh season might be its last. Season 8 isn't guaranteed and creator Jenji Kohan might be ready to hang up those fictional jumpsuits and move on.
"I haven't made a final decision yet, but I'm leaning toward ending it after seven — although the nature of the show is one that can go on and on because you can bring in new people," Kohan told the New York Times last year.
Even if Orange Is the New Black were to get saved after a seventh season, it's possible some of the characters who viewers have loved for so many years might not want to continue. Danielle Brooks, aka Taystee, explained to EW in 2017:
We have until seven for sure. To be honest, I don't know if I want to play an inmate past that. I don't know if I want to do that because I have a lot in me and a lot that I want to share with the world and different characters I want to be able to bring to life. After seven, I think it might be time for me to spread my wings, but I don't want to speak too fast on that.
Orange Is the New Black has been a steady Netflix force since 2013 and the streaming giant has blessed devotees of the series with new episodes every sumer since its premiere. Season 1 was unveiled in July, as was Season 6, but every season in between hit the service in June. If the scheduling trend continues into its potential final season, Season 8 should make its debut roughly around this time next year.
Season 6 capped off paving the way for shifts in focus for some of its integrel cast members — Piper is on the outside, whatever will she do now? I'm guessing that soap business is off the table. Lorna went into labor. Alex is without her new wife. Taystee is facing a heartbreaking sentence. Diaz is dealing with addiction. And is the longstanding C and D Block feud really over thanks to Piper's do-gooder kickball legacy? It will be interesting to see how it all unfolds in Season 7, but undeniably bittersweet if that's truly the series' end.