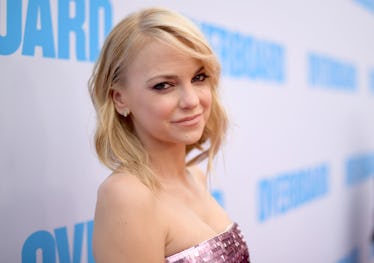 Here's A Brief History Of Everyone Anna Faris Has Ever Dated
Matt Winkelmeyer/Getty Images Entertainment/Getty Images
Ah, Anna Faris. Girl, you're my dream. You're hilarious, talented, gorgeous, and handling a super public divorce to a very famous person with extraordinary grace. You're, as they say, a catch. Now that Faris is officially back on the market after her divorce to fellow actor Chris Pratt, some fans might be wondering about everyone Anna Faris has dated in her lifetime. To be honest, the list is short. Like, really, really short. Sure, she probably had college flings and high school sweethearts, but if we're only counting her baes post-fame, the number is tiny. Based on my deep internet dive, Faris has had roughly two serious relationships including Chris Pratt. Maybe three.
To be clear, she's only 41 years old, and she was with Pratt for most of her adult years. That means she was on the market a long time ago, folks.
Before Pratt, there was Faris' first husband. Yup, husband. Faris was married to actor Ben Indra from 2004 to 2007. This means they got hitched when she was only 27. Of course, after Indra came Pratt, and now, Faris is being linked to her first man since her most recent divorce.
Walk with me, reader.
Ben Indra (2004 - 2007)
According to Pop Sugar, Indra and Faris met on the set of the 1999 horror film, Lovers Lane. Reportedly, court documents show Faris ended up paying Indra $900,000 in a property split and acting royalties after their breakup. They reportedly cited "irreconcilable differences" as their reason for divorce. (For the record, I did a quick Google search on Indra and came up pretty short. Just saying.)
Chris Pratt (2007 - 2018)
Both actors say they fell in love almost immediately. Pratt admitted to People magazine he would have married Faris the day he met her if he could have, but he knew that "would be crazy." Instead, he ended up popping the question in 2008 and they were officially hitched in 2009.
The news of divorce came as a shock on Aug. 6, 2017, when Pratt shared they were going their separate ways in a Facebook post. He wrote:
Anna and I are sad to announce we are legally separating. We tried hard for a long time, and we're really disappointed. Our son has two parents who love him very much and for his sake we want to keep this situation as private as possible moving forward. We still have love for each other, will always cherish our time together and continue to have the deepest respect for one another.
Michael Barrett (2017 - Present?)
Anna Faris is now rumored to be dating cinematographer Michael Barrett, though nothing has been confirmed. The two first worked together on the 2017 reboot film, Overboard, and apparently have stayed in touch. Two months after her split with Pratt, People magazine reported she and Barrett were spending lots of time together. At the time, a source said, "Anna has been hanging out with Michael for weeks."
As recently as June 2018, The Daily Mail released photos of Faris and Barrett hanging out in Italy with Faris and Pratt's son, Jack. And, just a few months prior, US Weekly reported her friends "approved" of Barrett. One insider told the publication, "They are a great match. All of her friends love him. He's so down-to-earth, stable and obsessed with Anna."
Sure, it's easy to mourn one of Hollywood's greatest power couples of all time. But, in theory, fans should be happy to hear everyone seems to be moving on.
I mean... right? RIGHT?!