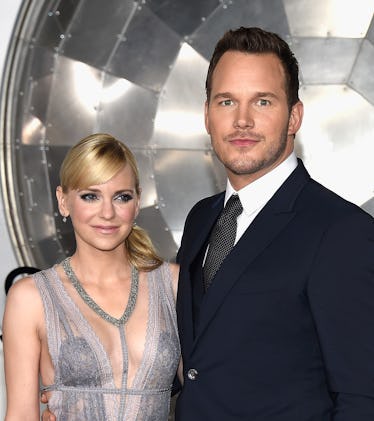 Anna Faris & Chris Pratt's Body Language Leading Up To Their Split Says So Much
Matt Winkelmeyer/Getty Images Entertainment/Getty Images
Sometimes, no matter how much you try to make a relationship work, things just don't turn out how you expected. It seems like this was definitely the case with Anna Faris and Chris Pratt. After an eight-year marriage, the couple announced they had called it quits in August 2017. It's hard not to wonder if Anna Faris and Chris Pratt's body language during the months leading up to their split hinted at their impending divorce, especially because they seemed so blissfully in love.
The real tear-jerker is the fact that these two had such a romatic start. According to Cosmopolitan, they first met in 2007 while filming Take Me Home Tonight and seemed to have had an immediate connection. Faris was married at the time, but ended up divorcing her then-husband, actor Ben Indra, shortly after filming the movie, Pratt told Elle. While there has been much speculation over why the two ultimately decided to end things, neither have publically gone into the specific details of what went down.
In a heartfelt Instagram post from last August, both actors simply said that they "tried hard for a long time" and were "really dissapointed," but asked that the public respect their privacy for the sake of their five-year-old son, Jack Pratt.
I spoke with body language expert Traci Brown to get some insight into the months leading up to Faris and Pratt's split.