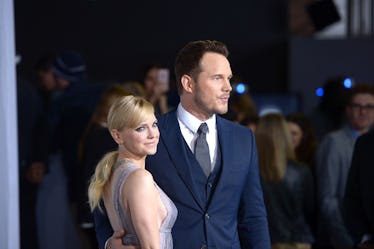 Anna Faris' Views On Marriage Changed After Her Chris Pratt Split & It's Heartbreaking
Matt Winkelmeyer/Getty Images Entertainment/Getty Images
Few celebrity divorces sting as much as Anna Faris and Chris Pratt's. Fans were particularly shocked because two people never seemed so perfect for each other. Though it's been almost eight months since the public first learned about their split, the wound is still raw. That's why Anna Faris' quotes about marriage after her Chris Pratt split have me so shook and sad.
Faris and Pratt were married for eight years and have one son together named Jack. The pair seemed like a match made in hilarious, comedic heaven and were fan-favorites on the red carpet and social media. Together, they really seemed like two of the lucky ones. Because of this, it truly came as a surprise when Pratt announced their separation on Aug. 6, 2017. He wrote on Facebook,
Anna and I are sad to announce we are legally separating. We tried hard for a long time, and we're really disappointed. Our son has two parents who love him very much and for his sake we want to keep this situation as private as possible moving forward. We still have love for each other, will always cherish our time together and continue to have the deepest respect for one another.
Faris tweeted the note as well.
Now, Faris is saying she isn't sure what marriage really means.
While speaking with Dax Shepard on his podcast, Armchair Expert, Anna Faris got real about how her perspective on marriage has changed. She told Shepard, "I need to figure out what the purpose [of marriage] is. Is it safety for your children? Is it convention? Is it so other people respect your relationship more?"
Faris added, "For me, I'm just not quite sure where it fits. I am a romantic. I believe in a partnership, I believe in companionship. I just don't know if I believe in a ceremony of a wedding."
There were some rumors circulating that Faris was insecure about how close Pratt became with his co-star Jennifer Lawrence during filming of their movie, Passengers. In fact, Faris directly addressed this in an excerpt from her book, Unqualified. In the text obtained by US Weekly, Faris wrote:
Before they met in person, my publicist, out of the blue, pulled me aside. 'Anna, listen there are going to be paparazzi all over them,' There are going to be shots of them laughing together on their way to set. There are going to be stories circulating, and you have to brace yourself for this.'
She also said the stories were "really hurtful" and she "couldn't block them out." That said, Faris noted Lawrence was very friendly with her and apologetic "even though she didn't need to be."
For her part, Lawrence shut down the rumors in an interview with KISS FM, and said clear as day:
I never had an affair with Chris Pratt on Passengers. That's a good one. I mean they got a divorce like two years later and everybody was like, 'Jennifer Lawrence!' And I was like, 'What the…what I'm in Montreal two years later.'
You can check out Lawrence's comment in the video below at the 7-minute mark.
Faris' split with Pratt marks her second divorce. She was first married to actor Ben Indra, whom she sort of suggests she left for Pratt in Unqualified. In an excerpt picked out by BuzzFeed, Faris wrote about her growing infatuation with Pratt on the set of their film, Take Me Home Tonight, during the time of her split with Indra. The excerpt read,
I went to set and was like, 'Hey everybody! I just left my husband.' Pretty soon I was knocking on Chris's door and was basically like, "Hi, I'm ready to get boned.
She added it got "hot and heavy in a way that I'd never experienced before."
Oof. You're making me cry ugly tears, Anna.
Today, the couple is focused on respectfully going their separate ways while continuing to co-parent Jack. Now, their fans just need to do their best to pick up and move on.
Check out the entire Gen Why series and other videos on Facebook and the Bustle app across Apple TV, Roku, and Amazon Fire TV.