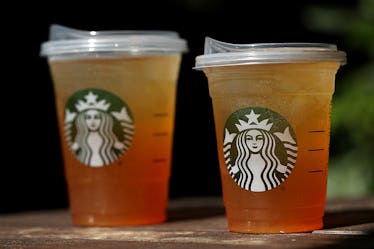 These Non-Dairy Drinks From Starbucks Have Plenty Of Caffeine For Your Busy Days
Justin Sullivan/Getty Images News/Getty Images
Whether you're vegan, lactose intolerant, or just prefer to have some dairy-free days, it can feel like dairy is in almost everything, including coffee drinks you get during your daily Starbucks runs. To help you avoid having to read through the ingredients of every menu item before you order, I've comprised a list of the strongest non-dairy Starbucks drinks that will help you avoid milk ingredients but also fuel your super busy days. You can thank me later.
In 2019, it's easier than ever to find or customize menu items at any coffee shop that accommodate people who don't or can't consume dairy. While Starbucks has some iconic and classic drinks made with dairy like Frappuccinos, lattes, cappuccinos, and mochas, the Seattle-based coffee company offers multiple dairy-free milk alternatives, like coconut milk, soy milk, almond milk, and my personal favorite, oat milk to add to your milk-based drink instead of dairy milk. There are also plenty of menu items that naturally don't contain milk, like Starbucks' hot and iced teas, the company's drip coffee options, Starbucks Refreshers, and cold press juices. Luckily, it's super easy and convenient to get non-dairy goodness at this global coffee chain. According to the caffeine counts available on the Starbucks website, these sips will keep you going, too!
Here are five non-dairy Starbucks drinks that will fuel your busy days.