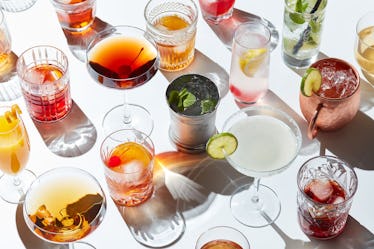 These St. Patrick's Day Beer Alternatives Include Sweet Sips Like Lucky Charms Shots
I love celebrating St. Patrick's Day — I always have. But when I first started drinking alcohol, I refused to drink beer. I disliked the taste and I couldn't stand the smell. So every year, when I would celebrate the beer-focused holiday, I did anything I could to avoid it by picking from a selection of alcoholic alternatives. So if you're in the same boat as I once was, here are seven St. Patrick's Day drinks that aren't beer, in the event that you, too, have a strong aversion to ales.
Maybe your go-to Irish drink features a classic whiskey base, or it might be sweetened with Bailey's Irish Cream. You may simply prefer an Irish cider like Magners Irish Cider, or there's a chance you'll just end up going for a non-Irish drink that's green, staying true to the holiday's classic and festive color scheme. There really isn't a "wrong" choice to make in this situation, and shockingly, there are a ton of options that you'll be able to choose from. So if you're down to ditch beer this year, check out each and every one of these non-beer St. Patrick's Day drinks, below. Honestly, these festive AF sips look pretty darn delicious.