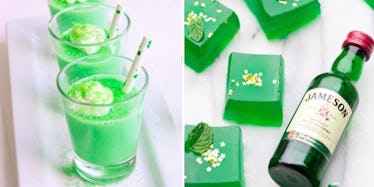 10 St. Patrick's Day Jell-O Shots To Help You Get Lit Like The Irish
St. Patrick's Day is almost upon us, so it's time to break out the green and brace yourself for a day full of bagpipe music and binge drinking.
Yep, this Celtic celebration has always been one of my favorite holidays.
But then again, who doesn't love a day that makes it perfectly acceptable to get sh*t-faced in public and celebrate your Irish roots (or at least pretend you have a bit of Irish in you)?
When it comes to turning up on St. Paddy's Day, most people prefer to get into the shamrock spirit with the classic shots of Jameson or green beer.
But if you're looking for some parade pre-game drinks that are a little classier (and better tasting) than Bud Light mixed with green food coloring, don't worry, we have you covered.
Remember when we showed you all of those awesome bougie Jell-O shot recipes?
Well, those aren't the only jiggly shots that will make you green with envy.
It turns out there are also a bunch of festive, yet fancy, Jell-O shot recipes that will let you embrace your inner leprechaun while getting seriously lit, of course!
Take a look at the pictures below to see the perfect Jell-O shots for St. Patrick's Day.
Shamrock Shake Jell-O Shots
Irish Car Bomb Jell-O Shots
Lucky Charms Jell-O Shots
Shamrock Jell-O Shots
Lucky-tini Jell-O Shots
Rainbow Jell-O Shots
Jameson Jell-O Shots
Irish Coffee Jell-O Shots
Peppermint Patty Jell-O Shots
Irish Flag Jell-O Shots