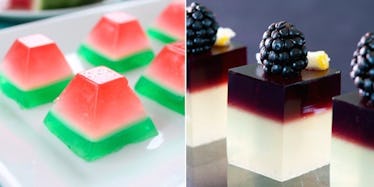 18 Bougie Jell-O Shots So You Can Start Turning Up Like An Adult
Thats So Michelle Tablespoon
No matter how old we get, some of us will always be a carefree 20-something-year-old at heart.
Case in point: my mother.
At her age (which I won't divulge because she would absolutely kill me), this woman never ceases to surprise me with her ability to turn up like she's still 21 while somehow still managing to completely maintain her composure.
Really, I don't know how the hell she does it.
But what really blows my mind is the fact her seasoned squad of friends still make Jell-O shots whenever they get together for special occasions.
Yes, Jell-O shots, the wavy dessert of choice of most college kids.
However, these aren't your average, cherry-flavored Everclear concoctions wiggling around in some tacky plastic cups.
These bougie Jell-O shots, which go by the adult alias "gelée," are beautiful little squares of jiggly booze that actually taste like real cocktails.
This was a life-changing discovery that made me question all of my poor adulthood drinking decisions.
So I set out to find a bunch of fancy, age-appropriate Jell-O shots because let's face it, we're not college kids anymore and it's about time we all start acting our age and turning up like damn adults.
Take a look at the pictures below to see some grown-up versions of your favorite frat house treats.
Jameson Jell-O Shots
Mimosa Jelly Shots
Piña Colada Jell-O Shots
Key Lime Pie Jell-O Shots
French 75 Jell-O Shots
Moscow Mule Jell-O Shots
Coconut Raspberry Mojito Jell-O Shots
Champagne Jelly Shots
Birthday Cake Jell-O Shots
Bramble Jell-O Shots
Fireball Jell-O Shot Cupcakes
Double Stuffed Oreo Jell-O Shots
Elderflower Mojito Jell-O Shots
Champagne Strawberry Jell-O Shots
Watermelon Gem Jell-O Shots
Fruit Wedge Jell-O Shots
Cucumber Lime Margarita Jell-O Shots
Bloody Mary Jell-O Shots