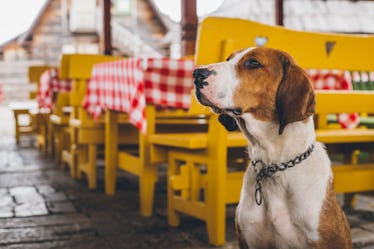 These Breweries Have Amazing Patios Where You Can Enjoy A Beer With Your Pup
One of my favorite things to do is take my dog out to a brewery with me. It's a fun way for the two of us to spend a Saturday afternoon together. She gets lots of attention from everyone at the brewery (read: all the ear scratches and belly rubs a dog would want) and I get to hang out and enjoy a new brew for a bit. If you're like me and you're looking for a new place to bring your pup and grab a beer, here are the 10 breweries that allow dogs.
Now that winter is finally gone (for now), it's time to start thinking about some outdoor plans. Sure, the beach sounds great, but that requires some planning. However, patio season is just about upon us —and that doesn't require much prep.
TBH, the winter weather has kept us indoors a little more than I would've liked. Now that it's warming up outside, the two of us are more than ready for patio season. Across the country, there are a handful of breweries with awesome outdoor patios that allow dogs. You should be able to find one in your state, but it's best to call before you and your pooch show up. Some breweries may require vaccination paperwork and other documents to ensure the safety of you, your pet, and others at the brewery.